Local stakeholders are urging NSW tourists to visit the South Coast after this week's Victorian border closure became the latest event to stifle the region's economic recovery.
"You couldn't line up three worse events if you tried," said Nigel Ayling, president of the Merimbula Chamber of Commerce. Local businesses lost up to 60 per cent of their annual turnover due to the fires, and Mr Ayling estimates that figure would now be 80 per cent.
"We're basically at six months of lost trade. A lot of businesses have only had two or three weeks of normal trade in seven months," he said.
Mr Ayling said there was positivity, high accommodation occupancy and forward bookings in the lead up to Victorian school holidays last week.
"People feel like every time they stand up they get kicked down," Mr Ayling said.
Tourism is the Bega Valley's second-biggest employer after health services. About half of tourists come from Victoria, one-fifth from other parts of NSW and one-tenth from overseas.
Loading
Merimbula Tourism manager Chris Nicholls urged NSW and Canberra tourists to visit the South Coast as towns were "all held together by vinegar and brown paper at the moment; it's all JobKeeper territory".
"We're just coping," Mr Nicholls said. "You keep on hearing people say things like: 'this has been the worst day I've ever had'. And then it keeps on going … and it gets progressively worse.
"Every time we close the borders and tourism, it puts another stopper on tourism and growth. We keep getting these little brief windows of opportunity … Just when we think of getting back to normality, this [border closure] happens."
Manager of the NRMA Merimbula beach holiday resort and caravan park, Jasamine Jones, said the resort was now dependent on tourists from within the state.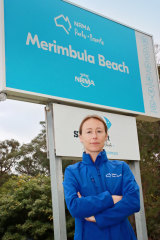 "I think people genuinely understand the South Coast is struggling. We're hopeful we'll still have people from NSW and Canberra coming to support us," she said.
The resort became a make-shift evacuation centre when tourists and residents fled the fires in January. A few families who lost their homes stayed longer term in the resort for respite, some even bringing their pet sheep.
"We got through that, and we opened up again. We thought, God: we've been dealt a really tough hand. When people's bookings got cancelled, they re-booked for Easter," Ms Jones said.
When the Easter travel season was also cancelled amid a two-month coronavirus shutdown, most resort staff left to find work elsewhere. "Every day we are having to adapt to something new," Ms Jones said.
Labor candidate Kristy McBain, who looks set to win the federal seat of Eden-Monaro, said the border closure would have a significant impact on struggling southern NSW communities as most tourists came from Victoria.
Loading
"Small businesses are already doing it tough after bushfires and the earlier coronavirus restrictions. Businesses in southern NSW are going to need more support from government to absorb this blow," she said.
Mr Ayling said the government's response to the coronavirus crisis, through JobKeeper, had helped provide financial support after the fires but that the community would now wait to understand the fallout from the border closure.
"Everyone [in the country] is suffering from COVID, but one of the big businesses in town said we could have handled one of these disasters, not three," he said. "They didn't have the big summer to pull them through this. It's a perfect storm of horrendous events."
Get our Morning & Evening Edition newsletters
Natassia is the education reporter for The Sydney Morning Herald.
Nick Bonyhady is industrial relations reporter for The Sydney Morning Herald and The Age, based between Sydney and Parliament House in Canberra.