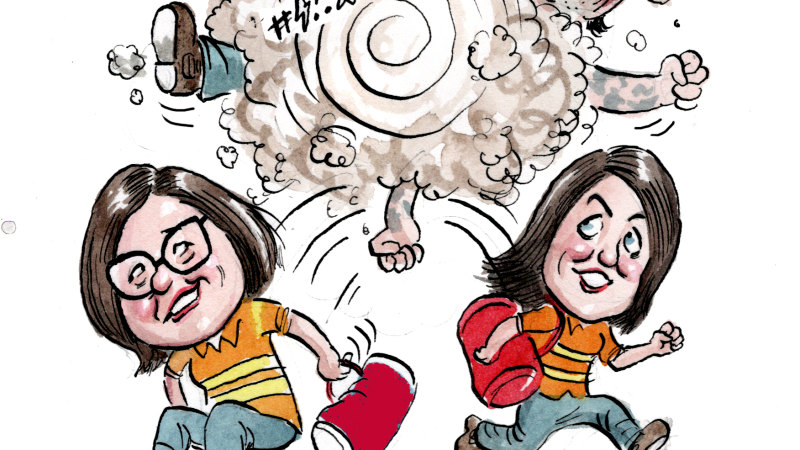 PIECE OF FURNITURE
It's farewell, of a sort, to one of the television industry's great survivors. Seven's long-time head of publicity Susan Wood has left the business, in her trademark low-key style, after shifting back to Melbourne at the beginning of the year.
The whisper-quiet Wood, who survived years of management turmoil at Seven and four chief executives, wrapped up her 17-year stint at the network in March, but remains a consultant on some of Seven's projects. "I'm now taking a COVID-related break," she joked.
Seven previously split the comms functions between Wood covering publicity and a director of corporate affairs, a post formerly held by Stephen Browning, who departed to head external affairs at chemicals giant Orica just as James Warburton arrived as chief executive last August. In February Warburton appointed former Westfield and government media boss Julia Lefort in a new role combining publicity and corporate affairs, a structure more in line with Warburton's cost-cutting imperatives.
SHAKING THE TIN
What's that sound coming from Victoria Racing Club members' inboxes?
It's the club rattling the can for members to pay their annual subscription fees. Last week, the VRC was open about the challenges it is facing mounting a Melbourne Cup and spring carnival under the COVID-19 world order of social distancing, in a phone hook-up with Sports Minister Martin Pakula and other sporting code heads.
VRC chief executive Neil Wilson outlined the constraints the club was up against, and explained that a social distancing rule of four square metres per patron would need to halve to two square metres per person if this year's carnival was to resemble any carnival of the past. But this week's lockdown no doubt means that plan needs to be revised again.
The Amanda Elliott-chaired club has now written to punters encouraging them to renew their memberships for the 2020-21 racing season.
The big promise? "Wonderful and exclusive membership experiences – whatever circumstances we face," according to the circular from the club's Racing Team. It's a tough sell when Melbourne is in lockdown. It's even harder when the prospect of a spring carnival or a racing season that resembles any past carnival is evaporating by the day.
Members have vented to CBD over the club's refusal so far to offer any discount on fees, which are well north of $500 for most members – a gesture adopted by other clubs including the Melbourne Cricket Club. And while the VRC has offered each member extra credit at the club's restaurants and bars, that special offer is not so easy to redeem when the precinct is locked down.
IRON-CLAD AGREEMENT
A trademark dispute involving cult TV series Iron Chef has come to the boil.
The Japanese producers of the cooking show, which aired late on a Saturday night on SBS, have lost their attempt to stop a food delivery app company from trademarking the words "Iron Chef" in Australia.
The little-known Delegate of the Registrar of Trademarks Nicholas Barbey recently found in favour of Iron Chef Pty Ltd against Japan's Fuji Television Network Inc, despite agreeing that the program had a "moderate reputation" in Australia.
Barbey said it was unlikely that consumers would be deceived into thinking the TV show and food ordering platform were connected. The only "tenuous link" was food, he said.
"The respective services are sufficiently different that it is unlikely they will be thought to have originated from the same trade source," he said.
Stephen Brook is a freelance journalist and podcaster.
Samantha is the The Age's CBD columnist. She recently covered Victorian and NSW politics and business for News Corp, and previously worked for the Australian Financial Review.