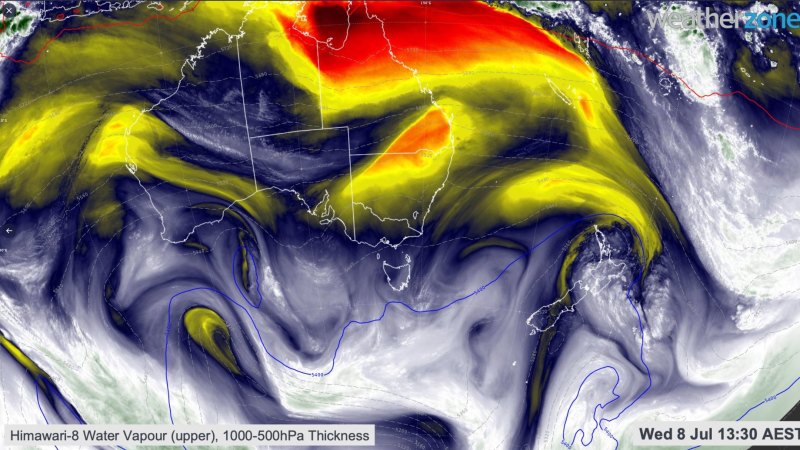 On the updated forecasts, the bureau expects as much as 45 millimetres for Sydney's Observatory Hill site on Monday, and up to 70 millimetres of rain on Tuesday. Conditions then start to clear although Sydney could still collect another 20 millimetres on Wednesday.
For Newcastle, those totals could be as much as 60, 70 and 20 millimetres on those days, respectively. Wollongong is likely to be wetter still, with totals reaching as much as 40, 80 and 25 millimetres for the Monday-Wednesday period.
Ben Domensino, a meteorologist at Weatherzone, said the complex low had the potential to bring "dangerous weather" to eastern NSW, possibly lasting into Wednesday.
"It's a dynamic system … which is why it's hard to predict the impacts," he said.
What is clear for now, though, is that widespread rainfall is likely in coming days over inland NSW as a trough moves across the state, reaching the north-east by the weekend. That trough should then form into a low as it crosses the coast overnight into Monday, Ms Kirkup said.
The main European model used by forecasters has the low forming near the Northern Rivers region, while another global model has it forming much further south. Once developed, though, it could generate multiple low cells within it.
These cells would most likely bring the most intense weather, such as winds gusting up to 50 knots (or 92.6 km/h), heavy rain with localised flooding and dangerous surf.
East coast lows are most common from autumn into winter, with the current system shaping up to be the "most significant low in the Tasman Sea" for some time, Mr Domensino said.
The last big east coast low was in June 2016, although it is too early to tell how close the coming system will be to matching that event for damaging winds, torrential rain and powerful surf along the NSW coast.
One complication with any storms this time around could be the coronavirus, which might hinder the response from emergency services already tied up with combating the spread of COVID-19.
"Luckily, [the east coast low] may help keep people inside," Mr Domensino said.
Peter Hannam writes on environment issues for The Sydney Morning Herald and The Age.
Most Viewed in Environment
Loading