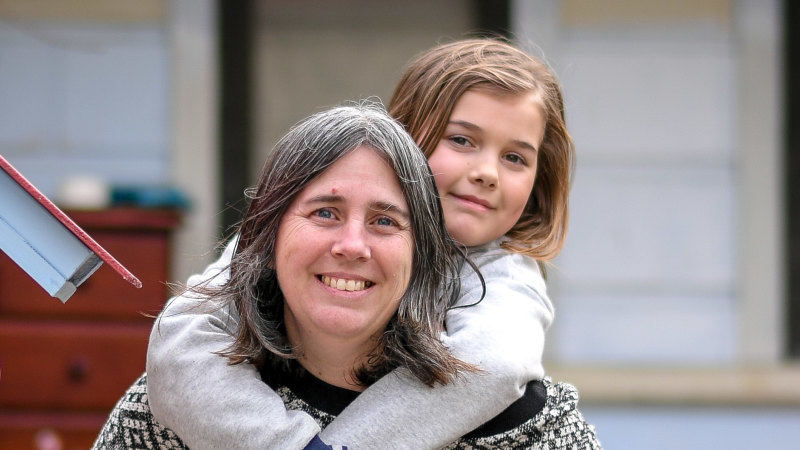 Melbourne parents have told The Age that good physical and mental health, happy family relationships and core literacy and numeracy skills will be their top priorities if they have to tackle learning from home again.
Footscray mother-of-two Rebecca Gelsi said she was considering a much lighter workload for her daughters after her family felt enormous stress while remote learning in term two.
"I'm thinking about part-time schooling or just pared back to the subjects they need and are really engaged in," she said.
"Parents have been talking about re-examining our priorities.
"To me, if they miss a bit of school that's not as big a drama as if we end up with so much friction in our house.
"If we're going in to do this again we really all need to focus on protecting that parent-child connection."
She said her daughters, aged 10 and 14, had found the remote learning experience difficult, as Zoom and Google Meet classes were hard to engage with, and they missed social connections to friends.
"You're pulled in different directions; nobody wants a child disengaged from school and everyone worries about that impact, but six weeks is a long time for a whole family to be under pressure and struggling," Ms Gelsi said.
Melbourne father Paul Jones said he wanted to allow more time for free play.
"We will focus on just the essentials including reading, writing and exercise," he said.
"We will not do screen time."
Loading
Another parent said they were considering simply giving their children an extended break from school.
"We're only just recovering from the previous round and I don't think it's productive to put ourselves through that stress again."
One mum, Leah, said she would not be pushing anything on her kids.
"This time we're only going to do the bare minimum," she said. "No more stressing about it."
Parent Niki Khatri said it was important to remember it wouldn't last forever.
"Just having done it once makes the whole process slightly easier to accept, not just for the parents but the kids as well."
Thursday marked the beginning of six weeks of stage three lockdown restrictions for 32 local government areas.
Anna is a breaking and general news reporter at The Age.