"Clearly that is a preference but there is some jurisdiction who require single accommodation," she said.
Super Netball is yet to make a call on which state will play host to the Melbourne sides for the start of the season with South Australia, NSW, Queensland and Western Australia all being considered as possibilities.
Clubs are set to find out the plan of attack at the weekend, with an official announcement on Tuesday.
King said netball faced a different set of hurdles compared to other codes, with many players having part-time jobs or study commitments in Melbourne.
The average salary for a Super Netball player in Australia is $67,000, with many on the minimum wage of $30,000.
The teams' medical staff are also usually a part of another organisation or have businesses of their own.
"When you're dealing in our sport there is a lot of other variables," she said. "These are part-time athletes who are required to do extraordinary things in the most extraordinary situations – and they just want to play."
The most likely scenario is for the Melbourne teams to relocate for a certain time with the hope that COVID-19 numbers begin to decline. After that, Netball Victoria hopes the Melbourne teams will be able to fly in and out for games.
Also under consideration is for non-Victorian clubs to relocate to interstate hubs in an effort to reduce travel time and share the COVID-19 burden. For example, West Coast Eagles to move to South Australia to minimise the time spent away from family once the number of cases subsides.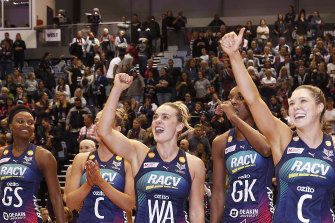 The number of rounds played will probably be reduced for the season due to COVID-19, with fixtures to be released in three-round increments to allow for change.
Loading
King said the beauty of netball being the final sport to start their 2020 season is that they learned from the restart of other competitions. No player has said they would not commit to moving for nine weeks interstate, King said.
"We have the benefit of being the late adopter in this," she said. "If we have to play in Timbuktu we will play there. That's how they [the players] are feeling."
The hope from the Super Netball commission is that the two Melbourne teams will be able to isolate together and therefore be able to train and play competitive matches against each other in the lead-up to the season.
Australian Netball Players Association chief executive Kathryn Harby-Williams said players' wellbeing is paramount, with the hope that players will be able to secure apartment-style living facilities during the relocation period instead of living in hotel rooms.
"Their preference is to enter another state and be able to move about freely rather than be in the confinement," she said. "The majority view of the playing group that they will try to do whatever it takes."
Sarah is a journalist for The Sydney Morning Herald.