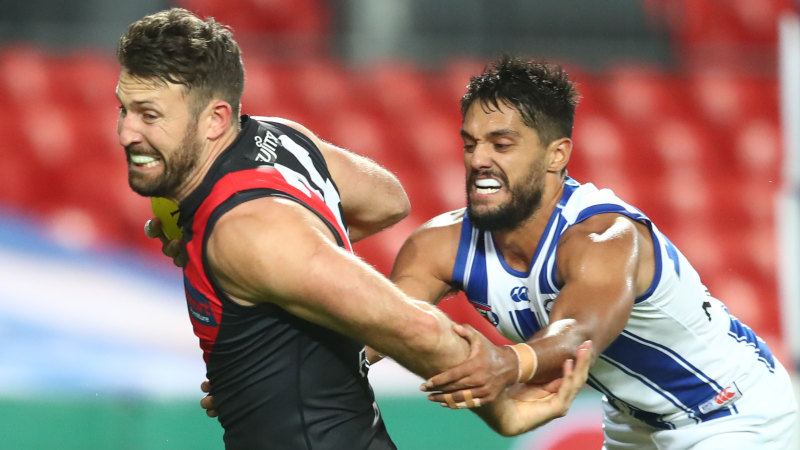 Essendon senior coach John Worsfold spoke to the media after the game and this is what he had to say…
Q: Four and one, game in hand. Things are looking pretty good. Can you talk us through that one?
A: Yeah. Look, a good arm wrestle game of footy. We knew it was going to be a contested game. It's a big part of the way North Melbourne play. In the end, we matched them in that area. And probably weren't as clean as we would have liked to have been outside when we got the ball outside and used it going forward, we left a few opportunities out there. But really pleased to come away with a solid win.
Q: How long do you think it took the guys to adapt to the conditions? Because it was pretty sweaty out there, it was like a wet weather game without the wet weather.
A: Yeah, all of our games in the last two or three weeks have been fairly wet. It was fairly wet
last week against Collingwood. So we've played all night games an they have all been fairly dewy and slippery. I wouldn't have thought they would need to adapt too much. It's a hot game and overall I thought in the first half we were pretty good in the contest matching the Kangaroos in that way.
Q: Andrew McGrath, do you think he is getting enough credit this season? He has been pretty great.
A: He is playing his role for the team and developing certainly we're happy with how he's developing. He obviously started as a defender in his first year and played a fair bit of wing time in the next year or so. And now as an inside midfielder he's grabbed the role really quickly and having a bit of an impact for us.
Q: Zaharakis three goals and what were your instructions to him?
A: He's been playing a role that is a little bit new for him and in some of – for some of the way we play, it's a little bit of a new role as well. So we're just trying to put all of that together. That's why we've said a few times over the last month or so that a lot of the stuff we're doing is a little bit of a change on what we've done in the past and we're just going to stick at it, keep believing in it and getting better at it. So I talked about Brayden Ham last week. He's had a couple of games where he's been quiet on a wing but the ball hasn't – we haven't transitioned the ball well away from the contest which has left him out in space but the last couple of weeks he's really showing what he can do when we play the way we're trying to play. Zaharakis is the same. He's been playing a key role for us.
Without getting much of the footy but tonight he got his rewards. His turn.
Q: Without Joe [Daniher], without [Jake] Stringer tonight, how much have you had to tweak that forward line? Because it seems to be working really well. You must have made a lot of changes without those guys.
A: Not a lot of changes. We're working to a system and committing to playing that way. Everyone just has a role to play within that system. The personnel may look a bit different but they are playing similar roles. Sometimes Jacob Townsend is playing as a key target at times under size but we know how hard he competes so rather we're pleased with how they are all working together.
Q: Have you seen the Dylan Shiel bump on Curtis Taylor?
A: No vision on the bench for me. I'm in the dark on that one.
Q: [Luke] McDonald did a good job on him tonight. Why did he come off at the half-time warm-up and was in with the trainers in the rooms there?
A: He got his foot strapped. So either – I'm not sure – but basically they said they were just re-strapping him and he was going to be fine to go. Look, we used him in a different role for different periods. McDonald going to him gave us the opportunity to put Shiel in positions where we thought we could get the edge with other players, like [Darcy] Parish and [Andrew] McGrath. That is the team game we're playing at the moment so we're rapt.
Q: Conor [McKenna] back into the team, I mean, you could feel like he kind of grew into the game and how important do you think it will be for him to get back to playing footy?
A: Yeah, it's been a tough couple of months for him. He's been in three lots of quarantine. And all he wants to do is play footy. So it is just good to get him back out there. Good to get him back on
the park last week. And available to play for us. So he's only going to continue to improve. We're lucky in that we've got some wonderful depth in those backs at the moment. There was four of the defenders that helped us win in round one against Fremantle weren't playing tonight but they are all available and ready to go for us as required. So we're in good shape in terms of the depth.
Q: How do you think you handled the first week, obviously the win is great, but out of Melbourne in the hub, how do you think you've handled all the logistics and that?
A: We did what we had to do. We knew we were coming up here and unpacking bags, getting ready to train and prepare to play. Ran our team meetings as normal, as I assume all clubs do. But our focus is around we're here to play footy. Prepare well and play footy. And all the other stuff just moulds into that.
Q: You have to move again, you move to Royal Pines now.
A: Yep. Another move. Change is as good as a holiday they say. We're off tomorrow. We're playing Friday night. It's a short turnaround for us so we have got work to do. Tomorrow is recovery day for the players and Monday we're bouncing back, ready to prepare for Friday night.
Anthony McDonald-Tipungwuti starred for Essendon again tonight and he joined Channel Seven after the game as well…
Q: Well done. You must be really pleased. Your own game was great and the club is on a roll.
A: Good to get a win and the boys played really well tonight. Great effort by everyone and happy with the win.
Q: Eighty-three consecutive games. It is the second-most currently in the comp behind Jack Crisp. Your body is standing up beautifully.
A: It is going really well. A lot of recovery after training and the games but I'm enjoying my, I guess, experience from the first day I got drafted and had a goal that I'm going to play every week and train hard at training and just look after my body really well. So yeah. It's great effort to, I guess, achieve that most games and that. But for me, it is just do the right things and work hard at it.
Q: You're an elite pressure player obviously and a classy finisher. What's it like having Jacob Townsend down in that forward line? I think he has added a lot of hardness an tough edge to your forward group.
A: I think it is great to have someone that loves a tackle and puts the pressure on. He plays his role really well. Had a massive role on [Robvie] Tarrant. So for him, put his pressure on and help us out with his experience obviously come from Richmond. So it's good to have someone that can tackle and put the pressure on and use his leadership and that with the team. So it's great to have him there. Someone that can help me with my pressure. So yeah. It's good to have him there.
Q: You were so clean with the footy and it was a tough night to be clean.
A: It was a bit dewy but for me, it was just taking the ball clean and doing the rest after that. So yeah. Lot of work but yeah, it's been pretty good.
Q: Tell us about hub life. We saw a lot of guys bring up their PlayStations and chess sets and all sorts to keep them entertained. What did you pack to pass the time?
A: I brought my Xbox 1. Just stay in the room and play a bit of games and that. But yeah, just enjoyed going to get to know some of the boys that I haven't really got to know from a personal level. For me it was just having that experience of getting to know the young guys and the older guys, stay in the room and play games and stuff. I really enjoy the experience. Obviously it's different compared to home. But for me, it was just enjoy the moment, enjoy the experience of it and as I said, just go and get to know some of my own teammates and what they love to do outside of footy and what they are like in person. So yeah. It's been pretty good.
Q: We are really interested in the transition from John Worsfold to Ben Rutten. You've had John Worsfold as your coach for a while. Ben Rutten is of course moving in. Tell us the difference between those two men?
A: Obviously 'Truck' [Rutten] does most of the coaching and 'Woosha' [Worsfold] does some of the coaching down the boundary. So it's kind of good to have someone that can help you from a personal level and just someone that can do some stuff too. But Truck has been, you know, loving the experience and taking it on. So it's been pretty good so far. So really enjoy having Truck as a coach and Woosha on the bench. Both of them work really well. I think they really enjoy the experience together. So it's good to have them both in the coaching.
David Zaharakis was the best man on the ground with three goals and 20 disposals and he, too, joined Channel Seven after the game…
Q: Well done. Because you struggled a bit with your own form. But tonight you were absolutely fantastic. It must feel really good.
A: Definitely does. It's a new role for me this year. Playing up forward and it's obviously different to how I played in the last 10 years of my career. So just embracing that role as everyone has this year. Moved a few guys around. Just playing system footy and some weeks you are going to get on the end of a few and other weeks you're not but as long as you play your role for the side, you're going to get picked every week in this team. That's what our coaches value and all of our players value, that you play your role for the side, whatever you're picked for that week and it's good that that's just the system we have here.
Q: In the past the Essendon footy club has maybe been a bit flashy in the run-and-gun and all the rest of it. But what we've already seen this year is you are toughing and grinding out really hard wins. Tonight was one of them. That would almost give you more pleasure.
A: Yeah. All of our four wins this year have been in tight contests. I think that's just a credit to the way the guys have trained and connected as a unit and like you said, we've always been known for our speed and flashiness but I think what 'Truck' [senior assistant Ben Rutten] and 'Car' [assistant coach Blake Caracella] have brought to the group is just a system-based culture at our footy club that we just want to connect on the field. Through all three lines. We're not flashy. We are flashy when we want to be, as in when we want to go fast we can go fast, but we have different systems that we can play, we're more of a defensively-structured team and then add attack from there. It has changed a bit. And just more consistency in games now. So it's been hopefully our supporters have seen that in the first five weeks for us.
Q: Team mates you must have been thrilled to have Conor McKenna out there tonight?
A: Yeah. He is just a unique player off half-back. He sees the game differently to most which is very unique coming from a Gaelic background so it is great having him back in the team. He will obviously develop from here. He hasn't played for quite a while. So tonight first hit out he was great and he will only grow.
Q: You love having young players come into the team and play their role as you said. [Jordan] Ridley down back, his marking but then his ball use coming out of back 50, he always retains possession for you.
A: He's a special one Ridley. He's definitely one that's going to be playing for 10, 12 years at the footy club. He can play on a tall, a small, he is just that silky mover and he has got long levers. His arms are huge. He can spoil the ball, then wins the ball on the ground, he has got an elite kick. He has that offensive flair for us which we love.
Q: Hard to believe that you're now the most experienced player on the Bombers list. As you said, over a decade and over 200 games. That to me just seems remarkable, feels like a minute ago that you were debuting. What is it like now with the 18-year-olds and you being the senior man around?
A: It's hard. I got called 'old boy' when I was 27. So quite a few years ago now. So I've been copping it for a while. I love it. The culture here is awesome. It's the best since I've been at the footy club. The connection with the group is amazing. Everyone's on the same page. We all get along. The
young guys bring such enthusiasm to the group and not just the guys that are playing, everyone off the field who aren't playing tonight, the boys back at the hotel, we're just a great close group and it's awesome being one of the older guys just to see that energetic vibe in the group and everyone just loving and caring for each other. It's a great time for us at the moment.
Andrew McGrath was also one of the reasons why Essendon won tonight and he joined Channel Seven after the game as well…
Q: Very hard working night tonight but well played.
A: Thank you. It was a tough one. We knew it was going to be. They are really good at their contest pressure and we knew if we matched them in there, we would have a good chance on the outside. But you're right, it was a slog too.
Q: Bit of a slippery game. How did you fine the conditions?
A: It is always difficult up here. You know what you're going to get up at the Gold Coast, pretty warm, pretty humid, the ground is pretty wet. You treat it like it is a wet weather game. We knew that coming in, stuck to our structures and played the ball to the contest all night.
Q: How have you and the boys adjusted to the hub?
A: Pretty good. We have got a young list, Jake [Stringer] is the only player with kids and unfortunately he injured himself, so we have no kids up here which is helpful, not a big draw back but all the boys have loved it so far. We have adapted well and really enjoying each others' company.
Q: It sounded like you had a few supporters up here tonight.
A: It is nice. Thank you so much for I guess our Queensland fans for coming out and hopefully we can keep building.
Devon Smith was one of Essendon's best and he joined Channel Seven after the game…
Q: What a win. Very hard fought but a great win.
A: Exactly. It's quite slippery. We obviously kicked a lot of points. So kept them in the game for longer. But proud of our boys, we are getting a system and really did believe in it.
Q: I did notice that left foot snap [of yours] that went across the face [from close range].
A: I'm pretty tired. It's just not for me. I can't run that well any more. It was a pretty physical game.
Q: You and Marley Williams had a few run-ins but that's the way you love to play your footy.
A: That's it. Bit of a rivalry built up but from them, but for us it's just another game. We cracked in and proud of our boys.
Q: Great way for you guys to do it without Dylan Shiel who was struck down from [tagger] Luke McDonald.
A: He started getting a lot of attention but I thought his defensive effort was through the roof. He can't have 30 every week so we are happy to get a win.
North Melbourne actually finished with more clearances 32-28, marks 56-53, inside 50s 47-43 and free kicks 20-18 but it was Essendon's disposal efficiency and their delivery inside 50/options in attack which proved the difference.
Essendon 2.5, 5.11, 8.11, 9.13 (67)
North Melb. 3.4, 4.7, 6.11, 7.11 (53)
GOALS
Essendon: Zaharakis 3, Langford 2, McDonald-Tipungwuti, Laverde, Snelling, Townsend
North Melb: Zurhaar 2, Goldstein, Atley, Brown, Scott, Higgins
DISPOSALS
Essendon: McGrath 25, Smith 23, Parish 21, Saad 20, Zaharakis 20, Fantasia 19, Hibberd 19
North Melb: Hall 23, Simpkin 23, Goldstein 19, Zurhaar 19
NORTH MELBOURNE GOAL
Simpkin breaks the McGrath tackle and centres the ball beautifully to Zurhaar who takes the grab in front of his eyes.
From 30m out directly in front, Zurhaar becomes North Melbourne's first multiple goalkicker.
1:40 to go
TWO ESSENDON GOALS IN A ROW
Merrett's pass to Townsend wide is centimetre perfect and the former Tiger takes the diving mark inside the boundary line.
From 35m out on a very sharp angle, Townsend curls it around magnificently!! That's the first goal of the quarter, believe it or not!
The Bombers are out to a game-high 20-point lead and that makes things very hard for North Melbourne
5:40 to go
This game has descended into a dour arm wrestle in the final term with just one behind scored – and it was an absolute sitter that Smith missed from 20m out.
7:26 to go