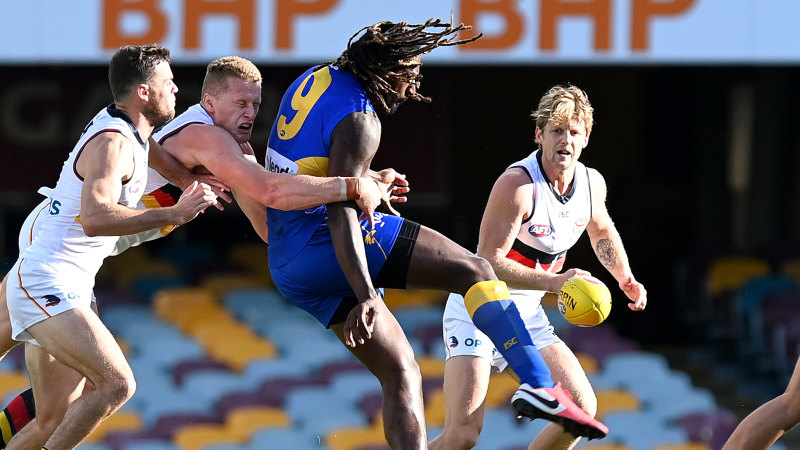 So after West Coast's decisive 33-point win at the Gabba on Saturday, Naitanui sought out his opponent and gave the Crow a replacement phone. And, most importantly, there were no hard feelings.
"I was reluctant to give it. It's a better phone that I've got," Naitanui told the ABC.
"I think everyone expected me to have a go back at the big fella. He's a good fella, he's pretty harmless."
The 30-year-old said he genuinely took no offence from the comments.
"I didn't know if it was real or not. You see half the things on Twitter and what not that are fake or made up," Naitanui said.
"I was actually pretty disappointed he apologised – being a big fella, a big strong guy in your team, you just expect those guys to own it, accept it.
"I thought it was funny. I had every sort of person trying to ring me for a response.
"I knew it came from a motivational side, not from any malice. It was good fun, all in the spirit of the game."
However, Naitanui admitted the unusual incident did provide some motivation on Saturday.
If someone wants to talk smack about you, you want to hurt them.

Nic Naitanui
"If someone wants to talk smack about you, you want to hurt them," he said.
"I tried to take some of my frustrations out on him. They did well – they tried to get under my skin a fair bit throughout the game.
"Most of the Adelaide guys are pretty good guys."
Scott Spits is a sports reporter for The Age