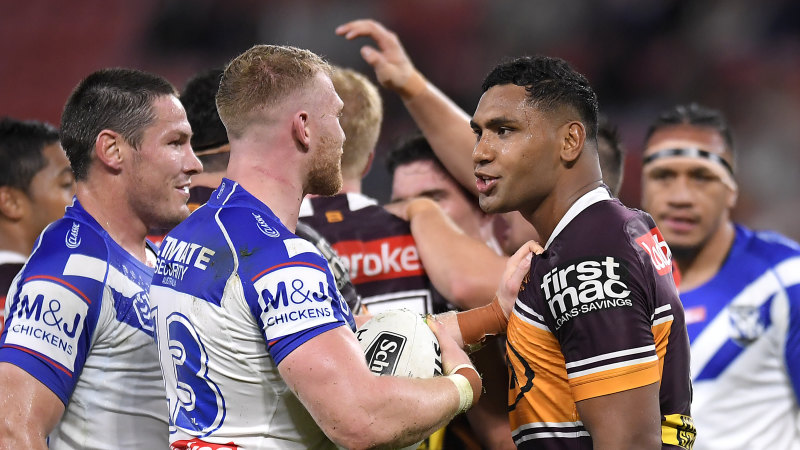 "I felt I had my hand up. I'll have to watch it again. It wasn't intentional. I'll have to watch it back."
The 25-year-old from St Helens is deeply proud to be part of the British production line that has produced some of the best NRL forwards of the modern era, from Adrian Morley to Sam Burgess.
He had to quarantine for two weeks on arrival then drive up from Melbourne to his new base in Sydney. It was an unconventional preparation by any means, but his actions and words indicate he's here to make a difference in a struggling Bulldogs outfit.
"I'm really proud of where I come from, players like Morley and Burgess, I've been massive fans of them. They've had a real impact over here," Thompson said.
"It was a real honour to be out there, putting the Bulldogs shirt on. I felt better than what I thought I would. I felt alright, engine wise. I loved being out there, just a disappointing result."
The Bulldogs may be in some turmoil given their results this season but you wouldn't know it from Thompson's reasoning for heading to Belmore. He had always supported the club from afar and liked the pitch he was given. The rebuild, he said, was just part of the challenge.
"I always followed the Bulldogs as a kid. When I spoke to people at the club, I liked what they were saying, a young squad that was building and I wanted to be a part of that. I just got a good feeling from everyone. I can't thank everyone enough – the fans, the club – for making me welcome."
On the way to Sydney, he stopped at Goulbourn's Big Merino after being advised by his mates to compare its sizeable undercarriage to his own.
Loading
"They said to me on the way up there was a sheep that had balls as big as yours, so I stopped to see it. Not quite as big as mine, not far off," Thompson quipped.
Given his choice of joining a Bulldogs side that has managed to win just a single game this season, that boast might well be right.