It's all thanks to Pascoe Vale mother-of-three Angelique Woodburn, a lifelong Christmas lights tragic who noticed the community outlook was getting rather maudlin following the return to stage three restrictions.
Remembering that "when people have their Christmas decorations up it makes them feel better", she suggested on local social media that people do "Christmas in July in Lockdown".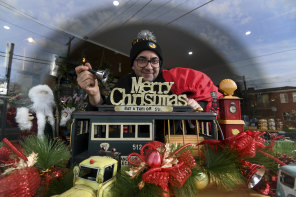 And so far 15 households and cafes have signed up.
Ms Woodburn has seen nativity scenes, blow-up Santas and large outbreaks of bunting.
Some people are speaking of egg nog and mulled wine, and even putting up their Christmas tree, "because they're so sick of the negativity and bleakness".
The project's purpose, she says, "is just to spread some cheer and lift everyone's spirits".
"Even to see the joy that the lights and the decorations bring to kids – that often brings joy to the people seeing that."
Kat Torcasio, 36, of Pascoe Vale, said dragging out inflatable Santas, solar lights and decorative stockings was worth it to see the excitement of her children, Charlotte, 9, and Theodore, 7.
She loves hearing passing kids exclaim, "There's Santa!", although "I feel a bit bad for the parents having to explain that Santa's not coming for five months".
"It's something unusual and fun," Ms Torcasio said. "It started as someone's wacky idea, and Pascoe Vale being Pascoe Vale, we've gone a little bit nuts.
"I think at the moment, there's nothing wrong with showing the world a bit more cheer."
Danny Harb, owner of st.derby cafe in Derby Street, Pascoe Vale, has gone all out with a window display containing toy Santas, fake mistletoe, a big Merry Christmas sign – and miniature vintage cars including a Kombi van, just because he likes them.
Mr Harb said it was "something happy to take people's mind off what's going on at the moment with COVID".
"It makes you feel really good," he said.
It was also a way to say thanks. The cafe is "doing OK", with support from the community.
Early in the pandemic, "customers would pay $100 for their coffee, saying, 'We want to ensure you keep your doors open.' "
Get our Morning & Evening Edition newsletters
The most important news, analysis and insights delivered to your inbox at the start and end of each day. Sign up here.
Sports clubs the cafe has sponsored have urged their members on social media to go to his cafe.
In return, the cafe runs runs a "pay it forward" coffee program and is a place where locals come to air their problems and connect.
'
Carolyn Webb is a reporter for The Age.