"All NSW sports clubs and organisations must ensure they adhere to strict COVID safety plans to keep their players and the wider community safe," he said. "Complacency will be the biggest enemy for our state so please make sure everyone is practising hand hygiene and keeping socially distant where possible."
The 'Return to Sport' guidelines put together by Sport Australia state that all huddles, handshakes and high fives are off-limits for community sport for the foreseeable future.
ISNSW Indoor Netball State Coordinator Shannon Timms said the centre followed "strict COVID guidelines" but would not comment on why the photo was taken with such a large group.
"We are an industry that has been extremely affected by this COVID crisis with forced closure for over four months," she wrote in an email.
Ms Timms then asked who alerted The Sydney Morning Herald and the Age to the image.
"Whilst we appreciate the concern for all, they need not worry and should direct there (sic) energies in other directions possibly supporting people rather than going to the media," she said.
A number of other local clubs across Sydney also took to social media over the last two weekends following the return of community sport on July 1.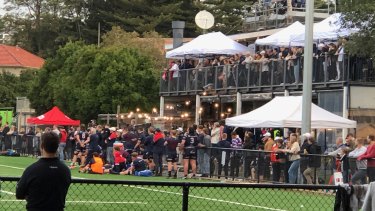 Last week the Victorian government was forced to announce a six-week stage-three lockdown of metropolitan Melbourne and the Mitchell Shire on the city's northern fringe due to a second wave of COVID-19 cases.
It meant that once again, community sport was forced to stop, with the second shutdown likely to push local clubs toward financial ruin.
The government concerns also come after NSW Police were called to a trial rugby match in Sydney's eastern suburbs over COVID-19 concerns.
Loading
Officers were called to Eastern Suburbs Rugby Club on Saturday afternoon amid social-distancing worries at a Shute Shield trial game against Sydney University. They left the venue, with enquiries into the event continuing.
"About 3.40pm yesterday [Saturday], police were called following concerns over physical distancing at a rugby game in Bellevue Hill," a police statement read. "Officers from Eastern Suburbs Police Area Command are conducting inquiries. No further information available at this time."
Easts president John Murray defended the event on Sunday after photos emerged of the crowd at the match. Mr Murray said the event was fully ticketed and entirely within COVID-19 restrictions.
Sarah is a journalist for The Sydney Morning Herald.