The Matildas, meanwhile, will receive just over $2 million – half of which they banked before the pandemic. It also includes mental health and wellbeing resources for players.
"It's a fantastic effort for [the Olyroos] to qualify for the first time since 2008, and obviously we're massively proud of our long-standing support for the Matildas and the women's program. They're genuine stars, right at the top of Australian sport," Australian Sports Commission chief John Wylie said.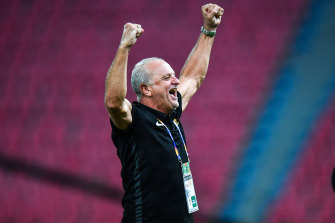 The cash injection brings the total funding poured into women's football by the federal government to $20.2 million since 2009. With Australia having won co-hosting rights to the 2023 Women's World Cup, Football Federation Australia will hope there is much more to come.
Sources have also told the Herald that subsidised camps for the Olyroos and Joeys have been tentatively booked at the AIS in Canberra for later in the year, although if and when they go ahead will largely depend on the spread of the coronavirus and travel restrictions at the time.
Loading
FFA has long pushed for additional funding for Australia's national teams. Many of their rivals across Asia enjoy significant investment from their respective governments, enabling players and coaches to come together more often for training, friendlies and other tournaments.
Wylie acknowledged football's argument and said he was "delighted" the AIS had been able to contribute.
"We support 39 Olympic sports. There's only so much funding to go around, and all these sports have got a great case to make as to why they merit support," he said.
"We want to see sports right across the spectrum competing and succeeding at the top of international sport, particularly the Olympic and Paralympic Games. We invest to support the whole spectrum of Australian sport and we do it judiciously, based on merit and needs and all of those things, and we think we've got the balance pretty right."
Not since the Athens Olympics in 2004 have both of Australia's men's and women's football teams qualified for the same Games.
Vince is a sports reporter for The Sydney Morning Herald.