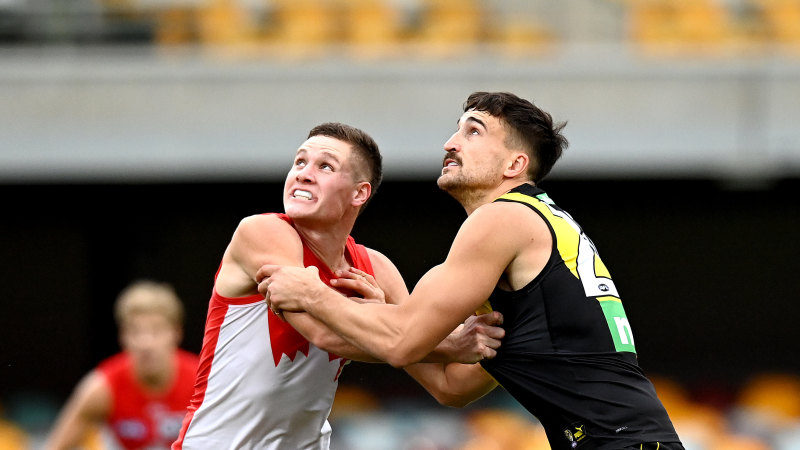 So what actually happened and how can the game's blame be apportioned, if at all?
This game should be viewed on two levels. One is where these teams set up their players at stoppages and when the ball was dead.
The second is what happened when the ball was in play and the game was in flow.
If you judge the game on where players "set up" then Swans are correct in asserting that Richmond threw the first stone. In what is a standard practice for them, the Tigers sent one of their forwards upfield to create a "spare" player at the ball-ups and boundary throw-ins.
Sydney then faced a choice. "John Longmire faced the decision that every team faces versus Richmond," said another club's opposition analyst and assistant coach. "Do you follow the forward up to the stoppage, or sit him back and support your defence?"
Longmire chose the latter. In effect, Richmond posed a question – where do you want the extra player we've granted you – and the Sydney coach's tactical response was "down back, where he plays".
And so a game of kick to kick ensued. Richmond, which had the stronger midfield, kept booting it forward, and the Swans kept sending it back, without interest.
In the photos from behind the goals you can see the spare Tiger forward (often Kane Lambert in their system) upfield while the Swans maintain that defender, Jake Lloyd in one screen shot, in his customary position but without a man.
"Longmire is right," said the opposition analyst, noting that Richmond had been the team that created the loose player.
But these behind-the-goal images are from stop plays, where the ball is dead, rather than in motion.
There's little question, according to well-qualified observers, that the Swans also pushed numbers back in the flow of play – as teams routinely do. On this occasion, they were best deploying modest resources, compensating for the loss of Kennedy and Isaac Heeney for critical periods and the ongoing absence of key talls Lance Franklin, Sam Naismith and Sam Reid.
Sydney has long defended from their defensive half, with numbers, making it difficult for the opposition to score from repeat entries.
Former Sydney, Bulldogs and Gold Coast coach Rodney Eade, who pioneered defensive "flooding" at the Swans in 1996, said Longmire had taken measures – pushing players back when the ball was "in motion" – that gave his team the best chance of "hanging in the game and trying to pinch it at the end".
"There's no blame to me," said Eade. "That's what they've chosen to do to give themselves a chance of winning."
There's an argument that, had the Swans tried to even up the midfield numbers earlier and kept players further upfield as targets, they might have given themselves a better shot at victory.
But there's a stronger case, from what current and ex-coaches say, that the Swans' lesser talent would have seen them unable to stay close had they not defended so stoutly with numbers, on a miserable, wet day.
Jake Niall is a Walkley award-winning sports journalist and chief AFL writer for The Age.