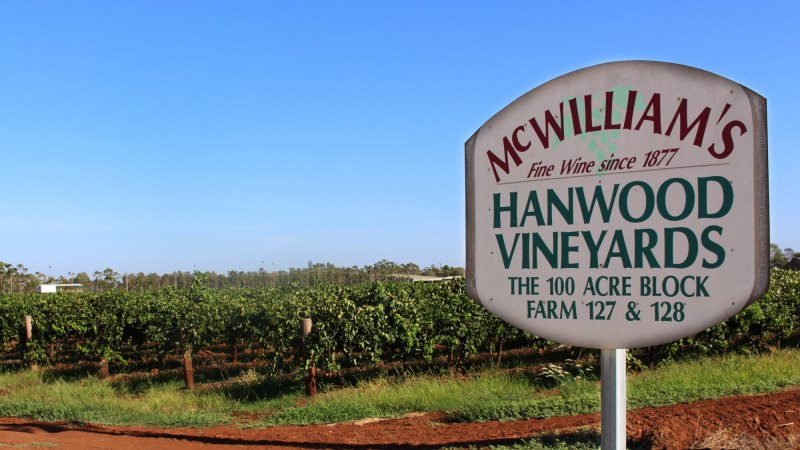 McWilliam's was ranked Australia's seventh biggest wine company by revenue in a recent report by The Australian & New Zealand Grapegrower & Winemaker magazine. It is an unlisted publicly owned company with 80 shareholders, many of whom are from the McWilliam family. It recorded gross sales of $97 million in 2018-19.
By way of comparison Australia's biggest wine company, the ASX-listed Treasury Wine Estates, recorded net sales revenue of $2.83 billion in 2018-19.
It has a heritage stretching back nearly 150 years to when Samuel McWilliam planted the family's first vines in 1877 at Corowa, NSW. The company has significant operations in the NSW Riverina and the Hunter Valley and owns the Hanwood winery, one of the country's biggest wineries, and Mount Pleasant. Its ranges include McWilliam's, Mount Pleasant and McW.
"Our potential investment in McWilliam's Wines Group is a great opportunity to make a cornerstone investment in the viticulture sector in Australia," said Charles Hunting, the Australian-based executive chairman of Prcstnt (pronounced "persistent") Asset Management.
"Whilst it is critical that McWilliam's is moved out of Administration and returned to profitability in the immediate term, over the medium to longer term we will look to inject further capital to scale the business in both domestic and international markets, while driving environmental outcomes in line with our philosophy," he said.
Loading
Ms Dickerson said a significant milestone in the administration process for McWilliam's had been reached.
"The proposal received from Prcstnt Asset Management provides a platform for growth and a confident step forward for the company, employees and stakeholders," she said.
The KPMG report outlined a range of reasons the administrators believed were behind the wine group's failure, including a history of significant trading losses, a failure to secure adequate debt and equity funding, pressure on margins and declining sales.