The email said an announcement was to be made on Tuesday, but that did not occur. The A-League and Football Federation Australia's head of leagues Greg O'Rourke have not responded to questions.
O'Rourke said earlier this month that the A-League was committed to using the VAR, which has proved extremely divisive since its introduction in 2017.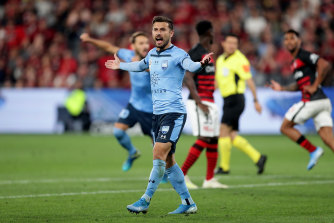 While the system has worked to great effect in reversing obvious errors by referees, many fans believe it sucked the spontaneity and flow out of the game. Players have said waiting for VAR checks can dull the emotion of scoring a goal.
No call has yet been made on whether the technology will return for the finals series, according to the email – but if it is, the VAR's operators will be asked to resume self-monitoring symptoms for 14 days prior.
Loading
The reason for the VAR's temporary removal is unclear, but it is likely to relate to an increased cost burden on the league as a result of the three Victorian clubs having moved to Sydney earlier than had been budgeted.
The VAR has been located at a centralised bunker in Sydney, rather than at stadiums, since 2018.
Football's law-making body IFAB has given leagues around the world discretion to pause the use of VAR for the restart of seasons if they saw fit. Japan's J.League is one such competition to have done so, citing a potential shortage of referees.
FIFA has since taken over direct responsibility for the system from IFAB and is keen to see VAR used in a uniform way across the globe.
What that means for plans for the A-League to serve as a guinea pig for VAR communications to be broadcast for the first time – like with rugby union's television match official – remains to be seen.
Meanwhile, the A-League released a revised draw on Wednesday, with the remainder of the regular season now to be played over 34 days across six venues, five of which are in NSW.
The finals series has also been pushed back a week, with the grand final to be played on Sunday, August 30.
Sydney FC meet Wellington Phoenix in the first game back on Friday night at Netstrata Jubilee Stadium. The Sky Blues need just four more points to clinch the A-League premiership.
Vince is a sports reporter for The Sydney Morning Herald.