But Mr Gray has batted away concerns the fast-growing sector is in the midst of a market bubble, believing instead the BNPL space was only just starting to take off.
Loading
"Focus on the sector is at an all-time high, partly because of the resilience the model has demonstrated throughout challenging external circumstances," he said.
"Adoption is also following similar trends seen in significantly more addressable markets, such as the United States… so when you extrapolate out the numbers, there are some significant opportunities for businesses in the BNPL space."
This view is shared by market analysts such as Shaw and Partners' Jonathon Higgins, who said most market-watchers were pricing BNPL companies for their future market share opportunities, leading to valuations out of line with conventional valuation metrics.
"The market thinks about where they can get their market share in four or five years, predicts the margins at that point, and then decides if their valuations are rational," he said. "It's very hard to price exponential growth over the short term."
"Is it rational or not? Let see, but it's very rare to see a company that's growing 100 per cent per annum with over $100 million in revenues, which all BNPL companies are at the moment."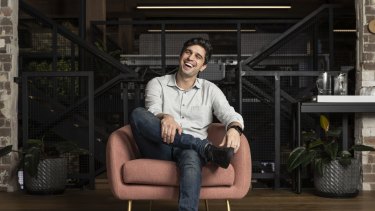 But despite Zip's stellar growth, the company's share price fell 6.7 per cent to $6.57 on Wednesday, driven partially by weaker-than-expected growth at soon-to-be-acquired US business Quadpay.
Meanwhile, Afterpay's share price rose 3.6 per cent to $69 following an announcement from the company it had struck a set of agreements with tech giants Apple and Google which will see the company's offering made available in-store through Google and Apple Pay in the US.
It's the first launch of an in-store option for Afterpay's five million US customers, who had only been using the platform online. Around 24 per cent of sales in Australia are completed through Afterpay's in-store service.
Commercial partnerships such as the ones forged by Afterpay are likely to be a boon for the company in the short term, Mr Higgins says, but the analyst expects all major players will strike similar deals in due course.
"You'd expect to continue to see other competitors being let into the ecosystem," he said. "It doesn't make sense for Google and the like to not let them in, they're in the business of making it ubiquitous."
Mr Gray said the company will closely watch the government's decisions around ending stimulus packages such as JobKeeper in September, but believed it was better placed than competitors to weather any future economic decline.
"The flexibility of the product and the investment we've made in our underwriting platform is delivering different results to the other BNPL providers…and places us in good stead for any further downturn," he said.
Zip's net customer accounts with bad debts made up 2.24 per cent of users, a 40 basis point increase on the prior quarter but still in line with expectations, the company said. Monthly arrears reduced from 1.55 per cent to 1.33 per cent.
Dominic Powell writes about the retail industry for the Sydney Morning Herald and The Age.