"You have to place your bets a little bit, you have to step in and say, 'can we secure pre-orders?'"
When asked whether the government had been in contact with Moderna to discuss pre-orders if the vaccine is successful, a spokesman for Health Minister Greg Hunt said the government was supporting researchers in Australia and also talking with overseas providers.
"The government is communicating regularly with researchers, developers and manufacturers of vaccine candidates in other nations," the spokesman said.
Moderna's vaccine progress has been a significant win for Platinum, which is headed up by billionaire Kerr Neilson, and has been invested in the biotech since its stock market listing in 2018.
The $20 billion fund's current shareholding in Moderna is not known but as of March 31, Platinum held 1.5 million shares in the business which would have been worth close to $US35 million at the offer price, and this week would be worth more than $US120 million.
Dr Ogden said the initial trial results were promising and that Moderna's technology platform had the potential to change vaccine production for the long term. "You can't expect anything to be perfect — and to me, it's looking good," she said.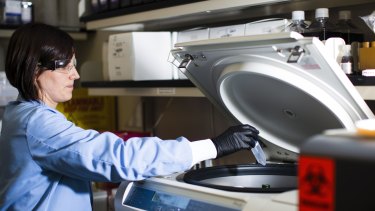 However, the road to a fully commercialised vaccine will be a challenge and Australia will have to fight for any early supplies, she said. "The bigger issue is the supply chain and making it. We've seen that the US is putting a lot of money into this," Dr Ogden said.
Moderna will move through its phase 2 and phase 3 trials, which will test the vaccine on more than 30,000 people, with the help of the National Institutes of Health and the US government project Operation Warp Speed.
That investment will likely lead to the US buying up the first runs of supply, Dr Ogden said.