His sculpture depicts Jen Reid, who was photographed standing on the empty plinth with her fist raised after Colston's statue was toppled last month.
He worked in collaboration with Reid, who was thrilled with the result.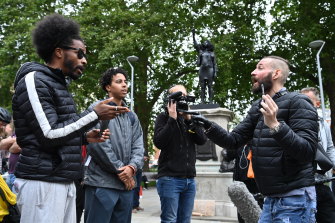 But there was no such warm response from Bristol mayor Marvin Rees, who said: "The future of the plinth and what is installed on it must be decided by the people of Bristol.
"The sculpture that has been installed today was the work and decision of a London-based artist.
"It was not requested and permission was not given for it to be installed."
Rees, who is Britain's first directly elected black mayor, added: "Anything put on the plinth outside of the process we've put in place will have to be removed."
By the afternoon, a makeshift sign had been propped on the new statue reading: "Mark [sic] Quinn loves money not blacks."
Bristol City Council later removed the statue, saying it "will be held at our museum for the artist to collect or donate to our collection".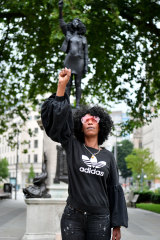 Black artist Larry Achiampong said: "The situation with the Marc Quinn sculpture is a sad joke. The point of all of this is about the redistribution of equity, of power. So simply putting up a sculpture that, yes, looks way better, is not enough."
He suggested that Quinn could have used his money to "actually support some young black artists to make something and put something up there", and added: "Sometimes the best thing you can do when you're part of the problem is just stop."
However, Reid said: "It's obviously a compliment and it's great that Marc has asked me to take part and collaborate with him on doing this. I hope it brings about change. There's definitely a change in the air and obviously this will keep the conversation going. That's what I hope."
Quinn employed a team of 10 people to install the figure, which had been planned for several weeks without the knowledge of Bristol City Council.
The black resin and steel figure was erected in just 15 minutes, using a hydraulic crane truck, and Quinn said it would be "extremely difficult to move". Petitions were set up online immediately asking for the statue to remain there permanently, but Quinn said that was not his intention.
Loading
"It may be there for a day, it may be there for a week, it may be there for a month. It's not intended to be the permanent replacement, it's intended to continue the conversation in the public realm about Black Lives Matter," he said.
On his website, Quinn said he wanted to use his privilege to be "part of the change".
If the sculpture is sold, all profit will be donated to two charities chosen by Reid: Cargo Classroom and The Black Curriculum, both of which work to address the teaching of black British history in schools.
The toppling of his statue was part of a worldwide reckoning with racism and slavery sparked by the death of an African American man, George Floyd, at the hands of police in Minneapolis in May.
City authorities fished the Colston statue out of the harbour and say it will be placed in a museum, along with placards from the Black Lives Matter demonstration.
The Telegraph, London; AP