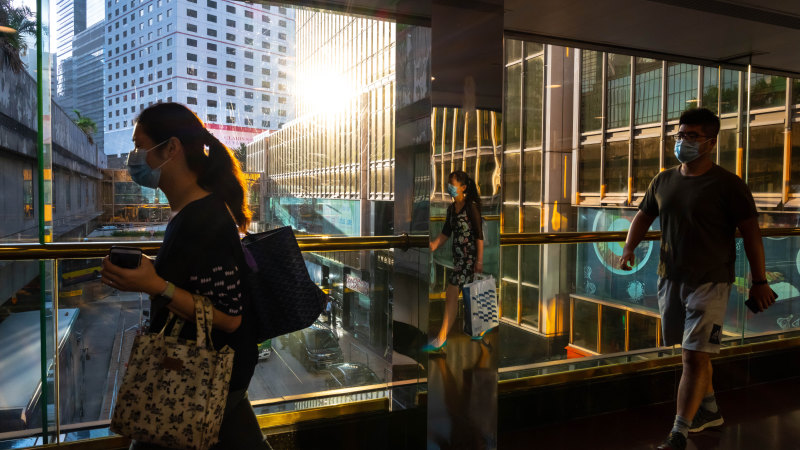 Like other major economies, property investment has also taken a tumble during the pandemic dropping by 8.4 per cent in the June quarter. The loss was offset by double-digit increases in industrial robot production, Chinese and western medicine sales and home entertainment products.
Deutsche Bank's chief economist in China, Yi Xiong, said a "V-shaped recovery has largely [been] completed".
Loading
"Industrial production and investment growth have both turned positive in recent months," he said. "Consumer spending is still below its pre-COVID path, but the remaining gap is largely concentrated in a few sectors–travel, dining, leisure services–where rapid recovery is unlikely. As a result, the recovery curve will likely flatten soon."
Liu Aihua, the director-general of the National Bureau of Statistics, said on Thursday the results showed the economy's resilience after it avoided two consecutive negative quarters, the technical definition of a recession.
"The tremendous impact of the pandemic on the world economy will continue to develop and evolve," she said. "External risk challenges have increased significantly, and domestic economic recovery is still under pressure."
Beijing now faces multiple international disputes over its initial response to the coronavirus pandemic, new national security laws in Hong Kong, incursions into the South China Sea, border tensions with India in the Himalayas and the banning of its flagship telecommunications provider Huawei from the UK, US and Australia.
The US formalised sanctions on Chinese officials involved in Hong Kong on Wednesday and will now treat the semi-autonomous global financial hub as part of China. It has also restricted some employees of Huawei from entering the US.
The New York Times reported on Thursday that the White House was considering banning all 92 million members of the Chinese Communist Party from entering the US in a move that would significantly escalate global trade tensions.