Thanks for tuning in. What a great grand final rematch – even if we had to wait nine months for it. The Raiders will be much more than just a punching bag for the rest of the year, even with an injury ward bursting at the seams.
Good night.
If you took the $1.01 about Josh Papalii being named man of the match then get in the queue. Does anyone remember he went off for a head injury assessment after only a couple of minutes? I almost forgot (no pun intended).
"It was one of the great performances to watch," Andrew Johns says in commentary. "This could be a huge victory for the Raiders."
As for the big fella himself?
"We definitely knew there was a massive spot to fill [without Josh Hodgson] and the boys turned up tonight," Papalii tells Nine. "We went back to basics with our gameplan and I think it's working at the moment. Hopefully it's the start of something special."
That win has lifted the Raiders into a share of fourth with the Roosters on 12 points. I can't help but think they'll look back at that result in a couple of months time as so crucial to their season, especially on a five-day back-up.
It's not like the Roosters to complete at just 68 per cent and the control of Jack Wighton and George Williams late in the second half was really impressive. The Raiders were content to turn the ball over on the last tackle deep into Roosters territory and they tackled their way to victory after that.
James Tedesco (222 metres) and Matt Ikuvalu (221) led all run metres for the Chooks, while Jake Friend clocked 41 tackles despite finishing the match on the bench.
Full honours to Josh Papalii with 180 metres and 29 tackles for the Raiders, plus the match-winning try. He is some player.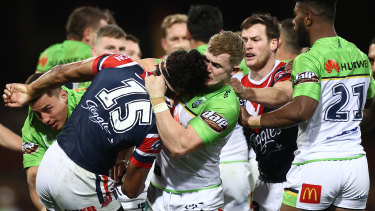 Ricky Stuart set it up all week with one of the crankiest displays we've seen from him a while. He was prickly, snarly and bristling at everything. It was done for a reason. The decision to catch a gameday flight to Sydney would have helped, too. It won't make up for last year's grand final, but it will help a little.
I still think it's going to be a huge effort to be a premiership threat with all their injuries, in particular to Josh Hodgson. But this is a great tonic.
The Roosters? Trent Robinson will be privately fuming with how they threw away that half-time lead.
And how about those tries they conceded? I can't remember the Roosters conceding so many tries straight up the guts. The Raiders just kept driving straight down Main Street, and the matchwinner to Josh Papalii was the best evidence of that.
The Raiders have done it. Who would have thought? What a win.
It's finished 24-20 – and without half their side from last year's grand final. That has to be one of the club's most famous wins in recent memory. What a night.
They've dropped it. Of all men Brett Morris. A minute to go. The Raiders are almost there. Ricky's fidgeting in the coaching box. How about it?
Just four minutes left. Cranky Ricky Stuart is on the verge of one of the best coaching performances of his career … and that's saying a lot.
His opposite Trent Robinson is desperate. He's thrown Joseph Manu onto the left side and an old-school partnership alongside fellow centre Josh Morris. This is a real SCG throwback.
This just might have been the turning point…
Josh Morris is filthy. The Roosters think they've tied it up again, but the referee has called the last pass forward from the veteran to Matt Ikuvalu. Was it forward? Maybe? Just? That's so close.
It was scintillating play from the premiers on the transition as Jarrod Croker looked like he was going to bust the tricolours at the other end and they switched defence into attack within the space of a couple of plays.
Raiders still leading by four with eight minutes left. Strap in.
The Raiders … they've done it again.
Josh Papalii has stepped his way through a gap as big as the proverbial Sydney heads. You just don't see that from the Roosters defence. What happened between Mitchell Aubusson and Lindsay Collins there? Big Papa bear just ambles over. No one wanted to go near him.
Jarrod Croker converts and the Raiders lead 24-20 with 13 minutes left.
What a crazy, crazy game.