Assistant Commissioner Cornelius said the officers told the man to stop, but he refused.
"Our members then drew a firearm and discharged their firearm and that resulted in the death of the male assailant," he said.
Assistant Commissioner Cornelius said it was believed the man and woman knew each other.
"They may be family members, but that is subject to investigation."
Assistant Commissioner Cornelius said police had sought to help him in the past.
"We've had recent contact with him, but there was nothing in that recent contact with him that indicated to us that the events of today might have occurred," he said.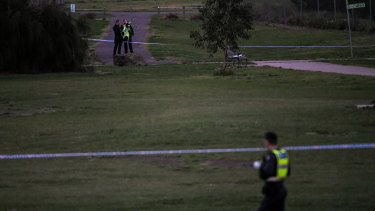 Police are appealing to the "numerous" eye witnesses to the attack to come forward, while the shooting will be investigated by professional standards command.
"What I can also say is the members involved were not physically injured, but of course, they're terribly shaken up," Assistant Commissioner Cornelius said.
"These were junior members early in their career and they found themselves having to make one of the worst possible decisions that any member has to make in their career. So my heart goes out to them.
"No member goes to work expecting to have to take the life of another person and that is very difficult and thankfully a decision that does not happen too often.
"But when a police officer does make that decision, of course, it has a terrible impact on that member and also of course generate significant concern for the wider community."
The man's body remained on the grass at the edge of the reserve, metres from houses, on Thursday evening.
Locals said they heard nothing until police sirens wailed about 3.30pm.
One man said it was generally a quiet area, with many families.
"It's peace and quiet around here normally," he said.
One man, who lives on the edge of the park and did not want to be named, said he saw emergency services trying to resuscitate someone.
"I normally go for a walk in the afternoon. I was going for a walk and police told me you can't go any further, this is a crime scene so I came back home," he said.
"I just heard a lot people [and saw] police trying to give CPR … I never heard anything, any screaming."
The man said it was worrying for something so serious to happen so close to home.
A large police presence remained at the scene on Katrina Drive on Thursday night.
Anyone with information should contact Crime Stoppers on 1800 333 000.
Simone is a crime reporter for The Age. Most recently she covered breaking news for The Age, and before that for The Australian in Melbourne.
Rachael Dexter is a breaking news reporter at The Age.