Purkey was pronounced dead at the Justice Department's execution chamber at the federal prison in Terre Haute, Indiana, the spokeswoman, Kristie Breshears said by phone.
His lawyers had argued he had brain damage and dementia caused by Alzheimer's disease. They said that although he had accepted responsibility for his crime, he no longer understood the reason for his execution and that killing him would breach the US Constitution.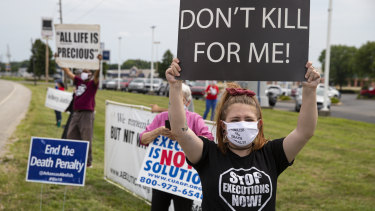 Before Tuesday, when the Justice Department executed convicted killer Daniel Lee in Terre Haute, the federal government had executed only three people since 1963, all from 2001 to 2003.
Lee had joined Purkey and other death row inmates in lawsuits challenging the legality of the government's new one-drug lethal-injection protocol using pentobarbital, a barbiturate, which the Justice Department announced a year ago, replacing its three-drug protocol.