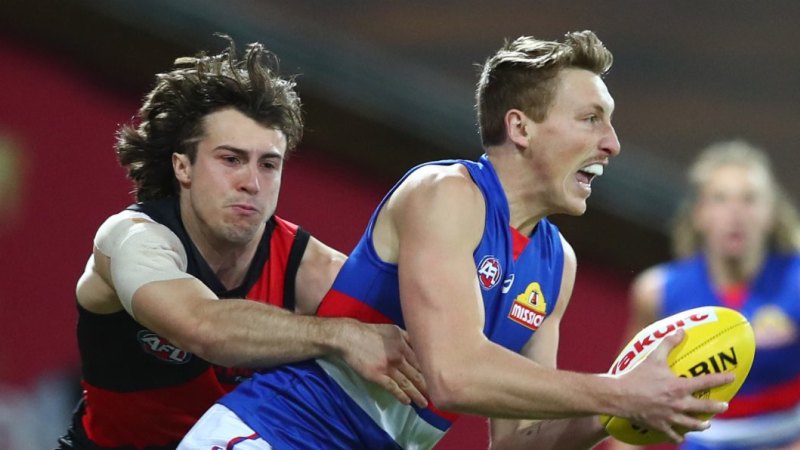 That was a brilliant win from the Bulldogs and a night which will leave a few question marks about the Bombers, although to be fair this season will see teams and their form jump around wildly considering how unusual their lives are outside of playing and training.
Anthony Colangelo's report on the game is now online.
We will have much more AFL coverage to come as Round seven continues and I'm sure there will be plenty more said about Cody Weightman's debut and how Essendon can bounce back.
The Bulldogs scored a 93-51 win over the Bombers tonight. We will be back with another AFL blog for Super Saturday tomorrow. Please check back in then.
Thanks for the comments and for following along tonight. Have a great evening and I'll see you all soon!
On the game:
It really was a disappointing game. The first half was disappointing.
They were winning the contested ball and went forward too easily.
That first half they really had the ball in their area. We can't talk about what guys weren't out there."
On struggles with the Bulldogs:
Their midfield seems to have a lot of strengths that come out against us.
We didn't have a lot of old, experienced guys we could get through there. Their experience in that area of the game is miles above ours. It's an area we are going to continue to build as our mids mature as footballers.
On ruck options:
Tim English had a wonderful game. Phillips has been good for us but so has Tom Bellchambers. He's had a couple of hitouts in our scratch matches. Draper had done a few things but has been out for a year.
We have options to consider but that doesn't mean we wouldn't stay with Phillips if he can have a good week.
On his first goal:
Don't think I'd had a touch yet. Bont put on a lead. Probably could've given that I reckon. But it was probably a bit far. But fortunately enough it went through. It was a bit of fun. The boys got around me, which is nice. But, yeah, it was an absolute blast out there. I bloody loved it.
What were your instructions from Bevo?
Bevo sort of, he just wanted me to play on instinct and have a real crack out there. He didn't bolt me down with what I had to do or anything like that. I think having that flexibility and, yeah, ability to just play a game and get a feel for it out there, obviously nervous coming in, but knowing he's backing you in just to do whatever you could when you got the chance, that was really reassuring, and like I said, so much fun out there. So happy with it.
On the game:
We were disappointed with how we fell away in the last quarter. Especially how we started the game. We wanted to start the game well and try and complete that. Bit disappointing, they scored a couple late, but they're a quality outfit, Essendon.
On the Bulldogs and their midfield:
The big fella is a lot to thank for that. He is still growing week-to-week. You see his transition and his game come into it with his marking and aerial ability. He's still continuing to challenge himself in the ruck. Part of the game. We benefited a lot from his good work today. The younger guys have played some good footy.
It's helping us, older ones a bit more, you see bloke like Bailey come through, Cody Weightman in his first game tonight, did some great things. We saw little involvements and that's what you hope you can get players to come in and do and I think it's probably a good sign that they feel comfortable to play their best straightaway.
On his ankle:
It's pretty good. A twist of the ankle. They straightened me back up.
Bulldogs ruckman Tim English was superb tonight and he praises the work of his midfielders once he won the ball.
On the midfield:
Yeah, I guess it's just a credit to the midfield. They've given me a lot of confidence, especially after last week. We felt like we started the game not the way we wanted to start, and lost that midfield battle, give Carlton a head start. So it was a real focus for us to start from the word go and be able to set the pace and show the rest of the team that intensity that question needed.
On the ruck contest with Phillips:
I felt like over summer I was able to work on my fitness and had an uninterrupted pre-season, as you know. That helps a fair bit going into the season. A lot of confidence in my running ability and try and play to that strength.
On Cody Weightman's debut:
It's got to put a smile on your face with his first goal. Unbelievable. That's the kind of stuff he brings. All we need from him is that pressure and that intensity and the little special things like that is something that he will always remember, his first goal.
It's all over on the Gold Coast and the Dogs have win number four of the season and move into the top-eight.
They were brilliant throughout the night but especially damaging after half time.
Essendon was missing some key players and have been performing well for several weeks but they will be disappointed with the margin and their inability to get back into the contest when the Dogs surged after half time.
The Bombers have had an ordinary night but they have had a nice finish from Devon Smith who kicked a goal from right on the right-side boundary line.
His kick never looked like missing.
Dogs 93, Dons 51. Almost over.
The Bombers have been good in the last five minutes but the Bulldogs have just forced the ball forward and found Suckling 60-metres out who kicked a powerful, low punt deep towards goal with Bailey Dale running onto the ball and from a very tight angle check-siding the ball into goal.
Dogs 93, Dons 44 with three minutes to play.
It's very late on but the Bombers have kicked another goal with David Zaharakis running onto the ball and kicking truly.
I suppose there is a little race now to see who will be ahead of who on the ladder tonight.
Dogs are ahead 100.2 to 99.2 on percentage according to Seven's live ladder.
Dogs 86, Dons 43 with six minutes to play.
Good fight from Cale Hooker to knock down the ball in deep marking contest and then re-gain it before snapping a goal.
It's been a dirty night for the Bombers but they are fighting it out.
Their last goal was 17 minutes into the second quarter.
Dogs 86, Dons 37 with seven minutes left.