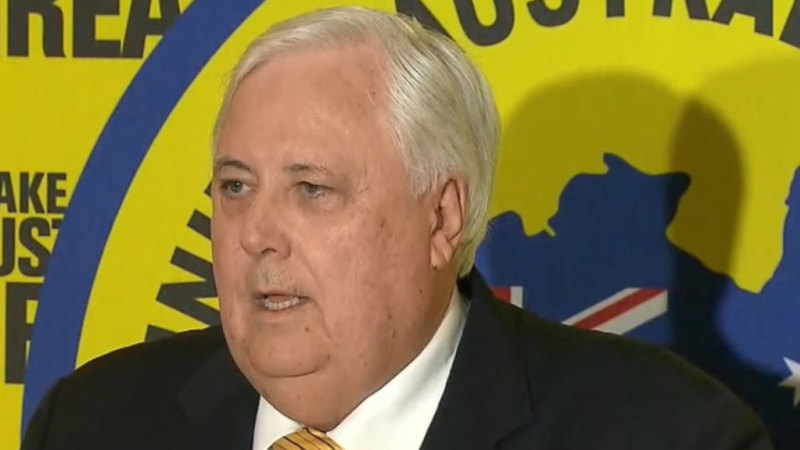 The corporate watchdog alleges that between August 5, 2013 and September 5, 2013, Mr Palmer dishonestly obtained a benefit or advantage for his company Cosmo Developments and/or the Palmer United Party and others by authorising the transfer of $10,000,000 from another of his companies, Mineralogy.
ASIC also alleges that more than $2 million was dishonestly obtained by Mr Palmer to the benefit of the now defunct public relations firm Media Circus, which ran the 2013 election campaign. Media Circus was sold to another company in 2016 and is no longer in operation.
It is alleged that he dishonestly used his position as a director of Mineralogy in these transactions.
The maximum penalty for an offence is $340,000 or imprisonment for five years, or both.
However, ASIC said that if the judge found the charges were aggravated he could face up to 12 years in jail.
The corporate watchdog had flagged the charges in February and was again quizzed on the topic at a committee hearing this week. The matter was adjourned for a second time in the Brisbane Magistrates Court on Friday.
In a statement, Mr Palmer brushed off the charges as "simply made up" and questioned why ASIC was "re-releasing old media releases from six months ago".
"All of these matters have already been heard by courts around Australia and have been dismissed," he said.
The flow of payments between Mr Palmer's private companies and the funding of its political party were revealed in detail following the collapse of Queensland Nickel in 2016.
The allegations of transfers of money from Mineralogy to Media Circus and Cosmo Developments were also raised in the long-running legal battle between Mr Palmer and the tenant of land owned by Mineralogy, Sino Iron – a group owned by Chinese conglomerate CITIC.