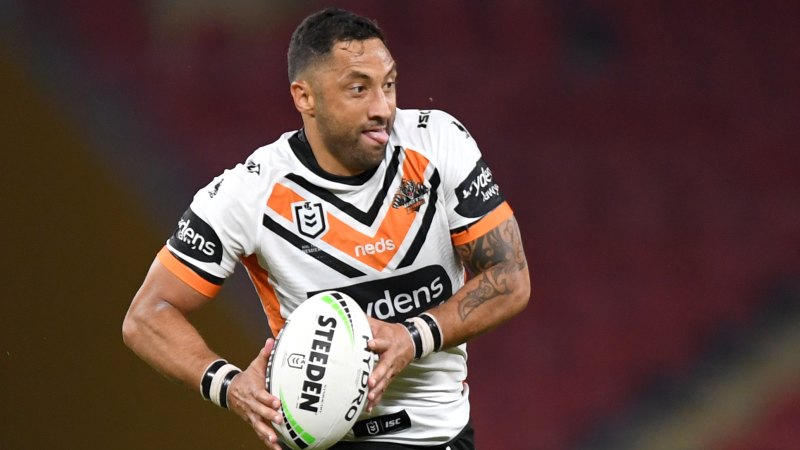 It should be another fascinating week at Red Hill. Tigers fans… enjoy your night and weekend. A wonderful performance in the bank.
"He is allowing players that are doing the jersey an injustice to dictate his future': Greg Alexander does not miss on Seibold.
"He's made some cosmetic changes but not ones that count. His senior players are letting down the younger ones. Darius Boyd and Anthony Milford, their defence was attrocious and I could not have them in the team next week. They don't look like they care enough."
Mbye makes no mistake and Brisbane could concede yet another 50-point score if the Tigers can get another score in these final minutes.
Lovely line off the Marshall pass. Did I mention my love for Luke Garner? I think I did already. Big fan, though. Milford suckered into the Marshall magic – Boyd lost again there – and he finds Garner unmarked on his outside to stroll over. It's now 46-0 with three minutes on the clock.
Scoring has just slowed down, Tigers being a bit cute here. Set play back the other way ends with the ball going into touch, now 17 minutes since they last scored. Chalk that up to their attack rather than Brisbane's defence. And here's another Broncos error, this time a knock-on from Isaac Luke from the Pangai offload.
That's something you don't see every day. Poor lad… that looked horrific. His season is done. Meanwhile, Pangai's offload goes to ground, Tigers lead 42-0 with 15 minutes left.
That looks absolutely gruesome. Reports of a compound fracture or a beak of some sort in the leg around the knee. Amazing, he stood up before he noticed then hit the deck in a hurry. Another one down for Brisbane on another one of their worst nights.
Stretcher coming onto the field. He almost scored there but has been injured in that tackle. And Harry Grant gets the standing ovation as he leaves the field… they love him out there. LET HIM STAY!
So it could have huge ramifications. For Fifita, he has an offer from a club that is playing better, has a good coach and is offering more money. What does he do? Tigers just having a flat spot here but have that handy 42-0 lead.
When props start doing that, you know it's a long night. He ran pretty fast chasing a try… maybe he should try running like that when he carries the ball to the line next time. Tigers up 42-0 with 20 minutes still to play.