Newcastle needed to regroup and got the break they needed when Burgess dropped it in a tackle from the restart. Still they weren't able to put the game beyond the Rabbitohs, who pushed and pushed and were only denied late by some epic try-line defence.
Mitch Barnett was front and centre at the death after producing some stinging hits earlier in the evening. Ponga's defensive positioning was faultless as he cleaned up kicks and ensured the Rabbitohs weren't able to get the fresh sets they needed to finish over the top and take the win.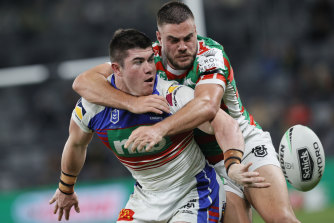 It ended in some minor controversy when Mitchell Pearce put it into touch as the clock wound down. Souths formed the scrum in time to have one play left but they shaped up off the mark and full-time was called, much to the disgust of Cook, who could hardly believe their late surge ended because of a technicality.
After the match, Rabbitohs coach Wayne Bennett was asked what flicked the switch for Souths.
"If you can tell me, I'd like to know," he said. "Newcastle played well early, we took a long time to get ourselves back into the game. I see it as a group of guys that didn't play for 80 minutes."
Ponga said the whole thing turned into a rollercoaster and, with Souths well behind on the scoreboard, the Knights turned an inch into a mile.
"Our first 60 was great then a bit of a snowball effect," he said. "They were just playing free because they were behind. We got the two points so we can't be too disappointed."
Earlier, everything for the Knights revolved around Ponga, who was back in sparkling touch. He scored a brilliant try before setting one up for Bradman Best, who charged through to pounce on a deft kick behind the Rabbitohs defenders.
Loading
It was only a week ago that Newcastle coach Adam O'Brien was going into bat for his star recruit, who hadn't scored a try since round four nor provided the stats man with a line break or try assist for two weeks.
O'Brien said fans needed to have faith and the slight dip in attack was due to a defensive focus at the club. Ponga was able to give his side the best of both worlds on Saturday night in a match that looked like a walk in the park until it strolled into an alternate universe at the 65-minute mark.
Souths paid the price for a scrappy first half, where they were stung with a pair of tries early and regularly invited the Knights into the contest. Adam Reynolds' kicking options were a touch wide of the mark and 12 team errors for the night was one of the key statistics in the wash-up.