For the rest, midnight marks the moment tower restrictions ease into line with the rest of metropolitan Melbourne and Mitchell Shire on stage three restrictions, ending more than a fortnight of the country's toughest COVID-19 restrictions on people other than returned travellers in quarantine.
Loading
Victorian Ombudsman Deborah Glass is now investigating the Alfred Street lockdown after concerns were raised about the "overwhelming" police presence, lack of essential supplies, communication methods and consultation with multicultural community leaders.
The Sunday Age has reported on residents' claims about medical treatment being refused or delayed, a mother unable to provide expressed breast milk for her premature baby in hospital and delays in getting prescriptions filled.
Many residents relied exclusively on charities for their food in the first several days of lockdown and have also questioned why people of other "hotspot" areas were given days' notice before restrictions began.
About 3000 residents of nine public housing blocks in North Melbourne and Flemington were told on July 4 they could not leave their homes after outbreaks were identified in a dozen households across the towers and everyone was to be treated as a close contact for at least five days while testing was performed.
Hundreds of police swarmed the towers, which are home to some of the city's most vulnerable citizens, as Mr Andrews was making the announcement via a live press conference.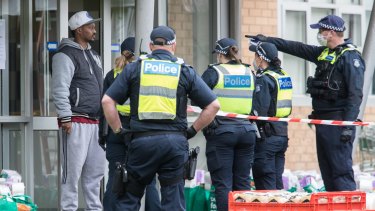 Restrictions were eased after five days for all the towers except Alfred Street, which on Friday had recorded 70 COVID-19 cases.
University student Rukia, who asked that her last name not be identified, said she had been "singing and dancing all day" in anticipation at being able to leave the home she shares with 11 other family members.
"We realised pretty quickly the [government's] promises were falling short," Rukia said of the lockdown, listing poor communication and slow responses from the Health Department's dedicated 1800 hotline among the failings.
She said in one instance her grandmother was dangerously low on vital medication and in the absence of DHHS help the family turned to a charity, which was able to restock the supply within hours.
Alfred Street residents were provided exercise time after the initial five days, but Rukia said she and her family only took the opportunity once.
"It was a small area and every second we were asked 'are you ready to leave, are you ready to leave?' she said.
"We were surrounded by police and DHHS officers and when we walked, they walked with us. It was very uncomfortable."
She said one positive was that residents were informed directly that they either had to stay isolated or were allowed to leave, instead of hearing it on the television "like last time".
She said her first act of freedom on Sunday would be to go to a nearby park for fresh air away from siblings and police.
Zach is a reporter at The Age. Got a story? Email me at zach.hope@theage.com.au