Matterson refused to attend an end-of-season bowls days with the players last year and then took a pot shot at the Tigers last month on social media for allowing Corey Thompson to join the Gold Coast Titans.
"Players' player last year and they didn't want to use you this year," wrote Matterson, followed by the raised eyebrows emoji.
In his defence, Matterson said earlier this year: "I did give my all in 2019 in every single game, and to all the fans out there I'm sorry with how it happened. I wish them all the best."
But that will mean little to teammates or fans on Thursday.
The Tigers go into that clash with some confidence after their 48-0 thumping of Brisbane on Friday night, the first time the joint-venture club had kept a clean sheet in eight years. But the players know a win against the Broncos is hardly a major scalp, and the Eels will pose a much bigger threat.
A win against the Eels will prove they really can match it with the big clubs this year after challenging Canberra and Penrith in recent weeks. Parramatta scored 50 points on the Tigers in the opening match at Bankwest Stadium last year, and put the Tigers to the sword again in Benji Marshall's 300th game, with a 30-18 win.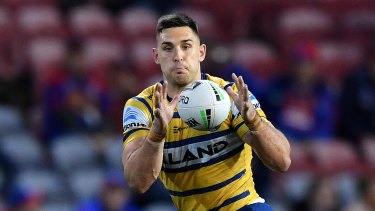 For all the animosity, Marshall only had positive things to say about Matterson when asked about going head to head with him for the first time.
"Matto is a great player, he's still a good mate of mine, but [Thursday] has got nothing to do with Matto," Marshall said. "We need the two points again.
"If you work hard at training you get results and, honestly, he's one of the hardest workers I've seen at training. I can understand why he's added so much to them. And he's a leader.
Loading
"In an ideal world you always want it to be rosy and good. But he did what he felt was best for him, and that's OK. You can't bag anyone for doing that. He's going well. Good luck to him."
Matterson missed the Eels' clash with Manly on Saturday night, but is expected to return to take on the Tigers.
The Tigers are also expecting Mitchell Moses, another one of their former players, to be back on deck for Parramatta after recovering from a calf injury.
"Mitch was always going to make it, and I knew when he was 16 or 17 training here with us he'd make it," Marshall said.
Christian covers rugby league for The Sydney Morning Herald.