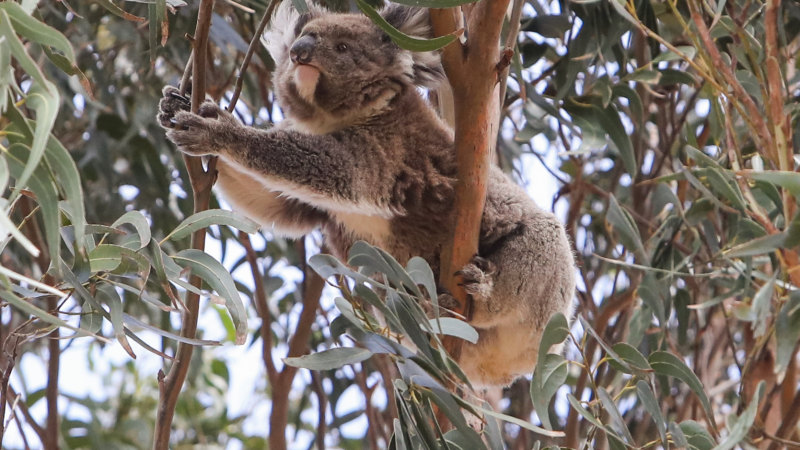 However, it is project developers who are legally responsible for referring themselves to the federal government if developments may impact a threatened species.
Loading
The low volume of approvals with no federal oversight show habitat clearing was consistently approved by state governments and the federal department has not proactively investigated the approvals issued by their state counterparts.
The Morrison government is expected to soon release its response to the Samuel Review of the EPBC Act, which Prime Minister Scott Morrison said would streamline federal and state processes "to a point of single-touch approvals".
ACF policy analyst James Trezise said both state and federal regulations are "fundamentally failing to protect threatened species" despite "clear obligations for both to step in and protect the koala, and other wildlife".
"It's concerning, given the previous push for federal governments under Tony Abbott to hand over its responsibilities to the states and territories, who we can see aren't meeting their responsibilities," Mr Trezise said.
"Our figures show states have failed to protect koalas, and the federal government hasn't stepped in to protect them either."
Koala habitat in NSW and Queensland has been removed at a faster rate since the animal was declared vulnerable in 2012 than before, a survey by consultants Biolink showed.
In NSW koala habitat destruction increased by about 32 per cent and in Queensland by about 7 per cent. Since 2001, Queensland's koala population has crashed by at least 50 per cent and the NSW population has declined by between 33 per cent and 61 per cent.
The federal Environment Department said in a statement it has an "active compliance program" and was required to monitor actions with a significant impact on a matter of national environmental significance.
Loading
The federal government has allocated $6 million for koala conservation including $3 million for koala hospitals in south-east Queensland and $3 million for projects to protect important koala habitat in northern NSW and south east Queensland, the statement said.
A report last month from the Commonwealth Auditor-General found the Environment Department failed to protect endangered wildlife, manage conflicts of interest in development approvals, 79 per cent of approvals were non-compliant or contained errors, and the Department's regulation is "not proportionate to environmental risk".
Across Australia about 8 million hectares of habitat for all threatened species was cleared between 2000 and 2017, and 93 per cent of it was not assessed, a study by leading Australian ecologists found last year.
Get our Morning & Evening Edition newsletters
Mike is the climate and energy correspondent for The Age and The Sydney Morning Herald.