The attack sparked protests outside the front of the site by hundreds of building workers, but the protest was called off after concerns were raised about social distancing.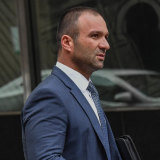 One of the builders involved at the Hawthorn East site was Raman Shaqiri, who was a developer involved in the illegal demolition of the Corkman hotel in 2016. Mr Shaqiri, through his lawyer, has confirmed Mr Gatto was involved in trying to settle the dispute with the union.
Mr Gatto has a long history as a "mediator" in the building industry, settling disputes through his company, Arbitration & Mediation Services.
Building industry sources said it appeared the parties had opted to use Mr Gatto to settle their issues rather than involve police.
Mr Gatto declined to comment on the meeting. Mr Setka did not respond to a request for comment, while Mr Shaqiri, through his lawyer, gave a brief response.
Mr Shaqiri would not say if he had paid or engaged the industrial fixer, but confirmed Mr Gatto's involvement.
Mr Gatto is often paid large fees by builders and contractors to settle disputes. He is also close to Mr Setka, who has described Mr Gatto as a friend and previously defended his links to the underworld figure.
Following the meeting, the CFMMEU's flag started to be flown from a crane at the Hawthorn East site. Through his lawyer, Mr Shaqiri confirmed the union flag was on site but did not provide any further information on the deal struck between the parties.
Building industry and union sources said it was unclear if this was a face-saving exercise for the union after the attack or whether it pointed to the CFMMEU having greater access to the site.
Loading
Mr Shaqiri's lawyer had previously disputed the union's account of what occurred at the building site.
"They were asked to produce copies of permits or other documents that entitled them to enter the site and they refused to respond," the lawyer, Matthew Francke, has said.
"They were denied entry and asked to leave. They then became physically aggressive and two staff members of the builder acted defensively. No weapons were involved."
The union disputed this and said the paperwork was in order.
"No one should go to work and be brutally attacked," Mr Setka said. "The attack was so violent, with one of the officials hit across the head with a lump of timber and knocked unconscious. We are all disgusted."
Victoria Police said investigations remained ongoing.
Mr Shaqiri was fined alongside developer Stefce Kutlesovski last year after they knocked down the 159-year-old Corkman hotel in Carlton without approval in October 2016.
They were initially fined almost $2 million for destroying the building over the course of a weekend. Last year, a County Court appeal led to the fines being cut to $1.1 million.
Loading
Last week, contempt of court proceedings were launched by the Victorian government and City of Melbourne against Mr Shaqiri and Mr Kutlesovski after they failed to comply with an order to transform the Corkman site into a park.
"At every turn these developers have failed in their responsibility to rectify their unlawful behaviour," Planning Minister Richard Wynne said.
Do you know more? Send us a confidential and encrypted message on Journotips or to benschneiders@protonmail.com
Get our Morning & Evening Edition newsletters
The most important news, analysis and insights delivered to your inbox at the start and end of each day. Sign up here.
Ben Schneiders is an investigative journalist at The Age and has reported extensively on the underpayment of wages, corruption, business, politics and the labour movement. His reporting has won a number of major honours including Walkley awards. He has been part of The Age's investigative unit since 2015.
Chris Vedelago is an investigations reporter for The Age with a special interest in crime and justice.