While stressing that it wasn't his role to control how the game was umpired, Ratten encouraged the league to protect the player going for the ball.
"Sometimes it'd be pretty hard to be a ball player and try and put your hands on it," Ratten said after the game.
"We have to be careful here that we haven't got players just sitting there waiting to tackle players. That's not how we want to play the game, so it's a fine line, and you've got to be given some chance to get rid of it. We'll just leave that to the umpires though."
Adelaide coach Matthew Nicks played a straight bat on the issue.
"It's a hard one to comment on. It was an interesting night from that perspective. But like the game, umpiring the game is pretty tough," Nicks said.
"We don't want the game slowed up. I don't think anyone likes watching a slow game of footy where it's 'hold the ball in, hold the ball in, hold the ball in.' So I understand what we're trying to do with the game. The issue is, on a tough night where the ball is slippery and players are going to ground and falling over it makes it a really hard thing to do, to adjudicate that."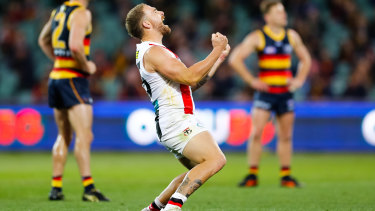 Ratten was meanwhile pleased his side withstood the Crows' second half comeback. St Kilda built a 26-point second quarter lead, but Adelaide drew to within two goals midway through the final quarter, leaving the Saints at risk of blowing a major lead for the third time this season.
"It was very pleasing. I think the games we've sort of let slip we've made errors and mistakes, and it wasn't perfect but it was really pleasing to finish the game strong and to win by four goals roughly," Ratten said.
"It's a step in the right direction. We want to play exciting footy but sometimes you can't. The opposition doesn't allow you to play the way that you want to but you have to adjust and find a way."
Swingman Josh Battle was set to be assessed for a cheekbone injury following a first quarter head knock with teammate Paddy Ryder. Battle played no further part in the game. The Saints head back to their Noosa hub on Tuesday before returning to Adelaide for a date with ladder-leaders Port Adelaide next Saturday night.
Nicks tried to remain upbeat after Adelaide slumped to a 10th straight loss.
"We've got to get back to work. We play in six days."
Daniel is an Age sports reporter