JPMorgan is the most optimistic for the deficit this year, forecasting a shortfall of $181 billion. The most pessimistic is Westpac at $240 billion.
Extra spending to prop up the economy, including a revamped JobKeeper wage subsidy program plus a reduced coronavirus supplement payment for welfare recipients, is contributing to the deterioration in the nation's finances.
The federal government has committed itself to $134 billion in spending in response to the coronavirus outbreak, including $86.3 billion in 2020-21. But the virus is also hitting the jobs market, wage growth and company profits in a way that will hit the budget bottom line for years.
AMP Capital chief economist Shane Oliver said the economic hit to the budget this year would be about $55 billion, mostly due to much lower personal and company tax collections.
As well as big budget deficits for last year and 2020-21, he predicts a $73 billion shortfall the following year, in which the next election is likely.
"These are big numbers but they're going to get blown around a lot," he said.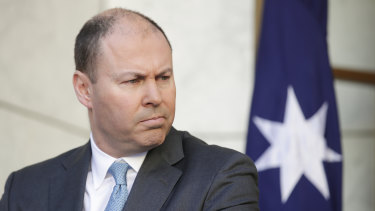 Westpac chief economist Bill Evans is expecting the deficit for 2021-22 to approach $150 billion, saying the government will have to support the economy as interest rates are already at record low levels.
"While these numbers might seem extreme and the [economic] statement may well take a more conservative approach, it is important that in the future fiscal policy will take the lead from monetary policy to lift the demand and reduce the unemployment rate," he said.
"Bear in mind that on our forecasts the unemployment rate in mid-2022 will still be around 7 per cent, signalling clearly the case for further fiscal stimulus with monetary policy largely sidelined."
Loading
Government debt has reached a record $719.4 billion, with another $2 billion in debt sold on Monday. At the mid-year update, the government was forecasting gross debt to fall to $474 billion by the end of the decade after 10 years of consistent budget surpluses.
ANZ senior economist Cherelle Murphy, who is tipping a deficit in 2019-20 of $110 billion, said the government risked making the budget situation worse if it sought to cut spending too early.
"The multibillion-dollar fiscal deficits and sharply higher debt that result are appropriate, given the size of the COVID-19 shock to the Australian economy," she said.
"A small policy response or a sudden end to existing policies would result in higher unemployment and lower growth and, ultimately, most likely a worse fiscal position."
Shane is a senior economics correspondent for The Age and The Sydney Morning Herald.