"I'll be touch and go for Newcastle this weekend. It's still tender and I can't put a lot of weight through it at the moment. We'll see how it settles down and we'll make a call late in the week – I'll give it up until Friday."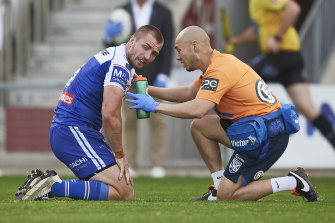 Foran remains unsigned beyond this season but hopes to extend his stay at Belmore. He said he felt he owed the club for splashing big money on him only for his body to keep letting him down.
"I'm not after mammoth dollars. I signed here for big money, and I've been injured a fair chunk of that time," Foran said.
"I've only been able to play a certain amount of games, so it hasn't been a good feeling.
"When you experience the tough times with a club, it's always so much more rewarding if you can turn things around and enjoy the really good times.
"From a personal point of view, staying on is what I want to do. Hopefully they're thinking the same and keen to keep me on. I've had a busted run with injury, but I'm hoping my body will come full circle and I have a few injury-free seasons at a really high level.
"I don't know where my value sits. You're worth as much as a club is prepared to pay you."
Meanwhile, the Dogs are clinging to the hope they can retain back-rower Corey Harawira-Naera as he weighs up a move to Canberra.
Loading
The Raiders want the Kiwi international in the nation's capital before the August 3 transfer deadline.
Harawira-Naera and Jayden Okunbor were deregistered by the NRL for their part in the pre-season Port Macquarie schoolgirl scandal but had that decision overturned on appeal. Okunbor will remain at Belmore.
Christian covers rugby league for The Sydney Morning Herald.