The Sydney Roosters are the most logical destination for Williams, given his strong ties to the club with whom he won a premiership back in 2013, but the tri-colours aren't convinced the dual international wants to return to the NRL for a cameo appearance to finish the season despite making inquiries on Tuesday.
Sources close to the Williams camp believe it is more likely the 34-year-old will fight former Cronulla captain Paul Gallen at the end of the year than make an NRL comeback. However, several clubs have reached out to his agent.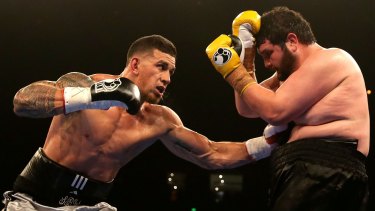 When contacted by the Herald, William's long-time manager Khoder Nasser admitted he had not spoken to Williams about his next career move given the time difference between Australia and his temporary home in Manchester.
Nasser was reluctant to speculate on his client's future until the pair had spoken, but admitted there was plenty of interest in his services. A third stint in the NRL for William would likely prove a ratings bonanza and provide a commercial advantage for any club that can land his signature.
Loading
The New Zealand Warriors are keen for Williams to join the club for the rest of the year, but it remains to be seen if the former All Black will risk a $5 million deal with Toronto for next season by playing a handful of games in a competition he has previously conquered.
The Warriors are also in the market for De Belin from next year, willing to pay him in excess of $700,00 to cross the ditch and link with the struggling club if he manages to prove his innocence amidst rape charges.
The Dragons have also opened negotiations with De Belin for next season, with chief executive Ryan Webb admitting they were hopeful of sorting out a deal in the coming weeks.
"We met with Jack to see if he had a desire to stay with the club, and if there were any questions that he had around the club's position moving forward or our actions in the past," Webb said on Monday.
"I don't think anyone could foresee this taking 18 months to play out, potentially two years. So I think it's definitely worth another conversation with the NRL. Jack came back and said we're definitely in his considerations moving forward, which is what we wanted to hear.
Michael Chammas is a sports reporter with The Sydney Morning Herald