"Aged Care Quality and Safety Commission, local public health and DHHS representatives are all on site.
"A full assessment is currently being undertaken to determine the appropriate clinical response in the interests of all residents."
A spokeswoman for the Premier's office said staff members at St Basil's were being treated as close contacts.
Christine Golding, whose mother has been a resident at St Basil's since 2011, said a St Basil's staff member told her on Tuesday that there would be a formal handover of the facility on Wednesday morning, and St Basil's staff would be sent home.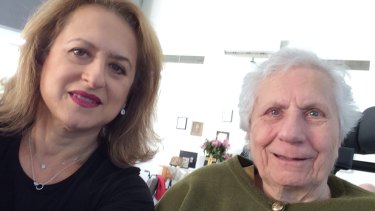 "They told me 'this whole thing is evolving at a rapid rate, we are all to be sent home from tomorrow'," she said.
Ms Golding said she was "petrified" that the care of her mother would be turned over to strangers, and was furious more information hadn't been communicated to families of residents.
"My concern is where is the consultation with the families? Why haven't we been consulted? Why haven't they outlined their strategy?" she said.
A large majority of residents at the 150-bed facility were Greek-speaking, Ms Golding said.
"There are a few Italians, a couple of Serbian people – English is not their first language," she said.
"They're going to be terrified. They're going to get all these new faces, they don't know my mother's needs, they don't speak Greek."
Ms Golding said the residents had been restricted to their rooms since last Wednesday, and that until two weeks ago there were strict protocols in place for visitors.
"From mid-May until two weeks ago we had to book in and they had special rooms with glass," she said. "They've been so careful".
At 51 cases, St Basil's is now Victoria's largest COVID-19 cluster in aged care. There are 38 cases linked to Menarock Life in Essendon and 42 at Estia Health in Ardeer.
Ms Golding said residents and staff were tested last Wednesday and then again on Monday.
Greek newspaper NeosKosmos reported on Sunday that a number of tests from the first round of went missing, resulting in the need for a second round of testing.
The federal minister's spokesperson said more details would be provided on Wednesday on the situation at St Basil's.
The Department of Health and Human Services and St Basil's board of management have been contacted for comment.
Rachael Dexter is a breaking news reporter at The Age.