We all know social media is not the place to go for nuance, but I can't help but think if some of those people stopped and listened to the experience of someone like Dujuan, the young subject of the film In My Blood It Runs, they would understand that given the same opportunities as non-Indigenous people, First Nations People can live happy and healthy lives free of the justice system, and connected to culture and country.
The truth is that colonisation and racist policies such as removing Indigenous kids from their families has traumatised Indigenous people throughout generations and relegated many to levels of poverty and disadvantage not seen in other parts of the Australian population.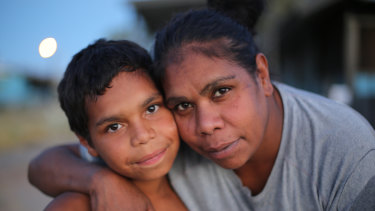 One of these seemingly intractable issues we need to reckon with is the over-representation of Indigenous people in Australian jails.
It should shock people to know that we lock up kids as young as 10 in prison – though we try to minimise this fact by calling it "juvenile detention". Australia is among a shrinking number of countries in the world that does this.
Conventional wisdom from politicians of all stripes is that getting "tough on crime" will fix the problem, and sway the voters who have become at once frightened and weary.
But if we look to history and a mounting body of evidence, locking little kids up in jail does the exact opposite. Rather than preventing those kids from reoffending, it traps them in the quicksand of a system where they lack the emotional support and other resources needed to extract themselves.
Loading
Just like their adult counterparts Indigenous kids make up the majority of people under 18 in jail. It's a shameful fact made all the more shocking when you consider Indigenous kids only make up 5 per cent of the population.
Are we really asking for children, many with considerable disadvantages – physical, social and psychological – to be put in a prison system where they will most certainly not receive the kind of care and attention that allows kids to thrive?
Last year the United Nations Committee on the Rights of the Child made its recommendation on the minimum age of criminal responsibility. It said adolescence is "a unique defining stage of human development characterised by rapid brain development" affecting decision making and the ability to control impulses and therefore, the minimum age of criminal responsibility, or MACR, should be raised to "at least 14".
There is overwhelming evidence that justice reinvestment and diversion programs are much more effective in both keeping kids out of the justice system in the first place, and also preventing reoffending and a lifetime caught up in the quicksand of the justice system.
Loading
When the Council of Attorneys-General met last year, it agreed to review the MACR, but we need action now. Raising the age of criminal responsibility from 10 to 14 simply needs the political will from our state and territory governments to make real and substantial change in addressing the legacy of colonisation and dispossession.
I only ask that we approach this problem with compassion and logic rather than anger and outrage. These are kids, not hardened criminals. In locking them up and not supporting them to flourish we're setting them up to fail.
Perhaps instead of getting tough on crime, we can get smart, because doing more of the same isn't working for anyone.
When the council reconvenes on Monday, it has an incredible opportunity to make positive change for Indigenous people in Australia for generations to come by finally committing to raise the age from 10 to 14.
The truth about how badly First Nations peoples have suffered because of colonisation is uncomfortable, but by taking simple, uncontroversial steps like raising the age of criminal responsibility we can be responsible together for a better future for our kids and for our communities.
Rodney Dillon is the Indigenous Rights Advisor for Amnesty International Australia.