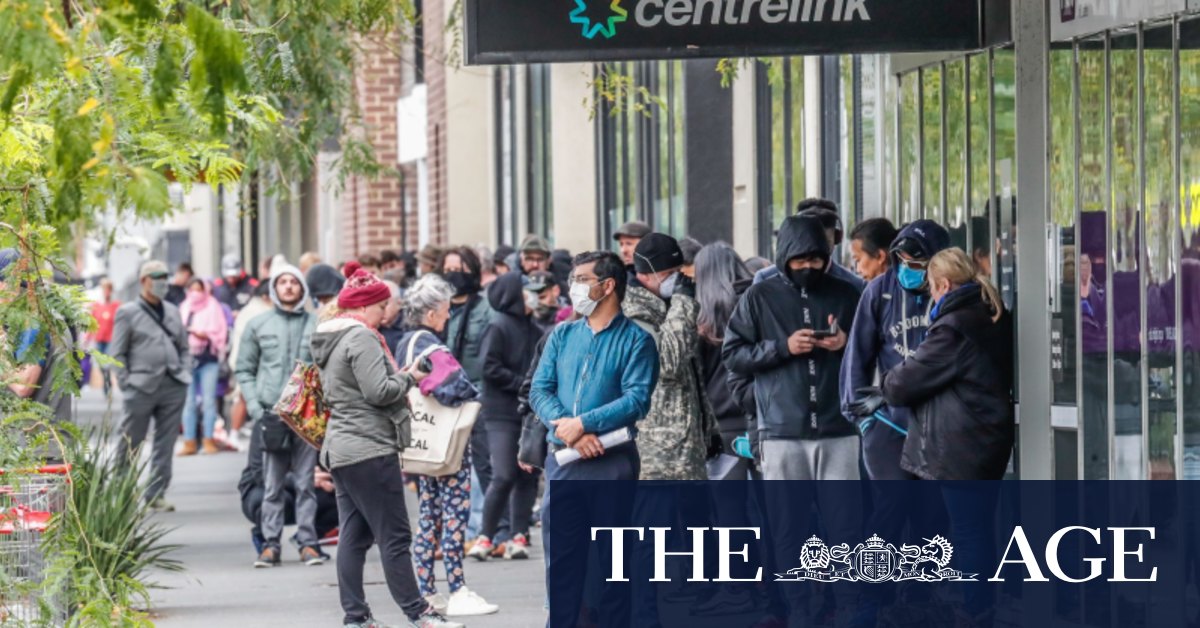 Loading
The modelling is an update on the predictions released in April, which assumed six months of uninterrupted stage three lockdowns, and shows gross state product, a measure of economic activity, could fall by 5.25 per cent – or $21 billion – this calendar year.
The state's unemployment rate has grown from 5.3 per cent in January, when there were 195,000 Victorians looking for work, to 7.5 per cent in June with 265,000 unemployed, and is now tipped to grow to 9 per cent, or 318,000 people without jobs, by the end of September.
The Treasurer's office said the new modelling had taken into account the federal government's decision to continue with a modified version of its JobKeeper wage subsidy scheme past the original scheduled end date of late September.
The state's deficit for the first three quarters of the 2019-20 financial year was $773 million, with the full-year result – expected to be very much worse – to be revealed by the government in Thursday's update.
In an effort to put Victoria's problems in a global perspective, Mr Pallas pointed to forecasts from the International Monetary Fund and the Organisation for Economic Co-Operation and Development of a damaging recession shrinking worldwide economic output by 7.6 per cent.
Loading
The state government was spending an extra $1 billion a week battling the pandemic during its first surge in March and has arranged a $24.5 billion line of credit to fund future spending with no end to the crisis in sight.
The Treasurer said the government had pumped almost $7 billion into the economy in support to businesses and households in an effort to stave off the worst of the pandemic's economic impact.
"The coronavirus pandemic is one of the biggest economic challenges our state and our country has ever faced – and we're doing everything we can to support the tens of thousands of Victorian businesses, workers and families doing it tough," Mr Pallas said.