Only contracted players are allowed to train at Cricket NSW's facilities at Sydney Olympic Park and Blacktown.
Safety measures including temperature monitoring on arrival, physical distancing and a ban on using saliva to polish balls, are ongoing.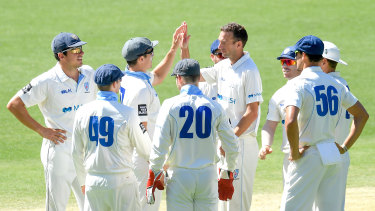 The tightened rules come as uncertainty reigns in the game, with Cricket Australia yet to finalise a biosecurity agreement with state and federal governments that would allow players to train during a 14-day quarantine period.
The issue has implications for CA's international schedule, released in late May, with the Test against Afghanistan to come under the pump.
All states and territories, with the exception of NSW and COVID-rife Victoria, could house biosecurity bubbles for Australia's returning cricketers.
The official postponement of the Twenty20 World Cup this week provided the world game with some clarity as it gives a green light to plans to stage the Indian Premier League.
The coronavirus crisis in India is set to force IPL organisers to move the event to the UAE, according to a report on the cricinfo website.
"We were waiting for the ICC to officially announce [the postponement]," the IPL's governing council chairman Brijesh Patel told cricinfo. "We have applied [for permission] with the Indian government. Should get it."
Matches will be played in Dubai, Abu Dhabi and Sharjah, Patel said.
Loading
A source has indicated the tournament could start as early as mid-September with reports in Indian media saying a November 7 final has been pencilled in.
This would give the Indian side time to travel to Australia and prepare for the Test series slated to start on December 3 at the Gabba.
Despite the IPL clashing with the start of CA's domestic season, the governing body is not expected to object to releasing its stars for the tournament in a bid to maintain its relationship with the Board of Control for Cricket in India before this year's $300 million tour.
Meanwhile, national women's captain Meg Lanning has returned to the Melbourne Stars for this season's WBBL after three seasons with the Perth Scorchers.
Andrew Wu writes on cricket and AFL for The Sydney Morning Herald