In the second study, evidence from 42 sites around North America and the location of a land bridge that connected Siberia to Alaska during the last Ice Age indicated human presence dating to at least a time called the Last Glacial Maximum, when ice sheets blanketed much of the continent, about 26,000 to 19,000 years ago and immediately thereafter.
The research also implicated humans in the extinctions of many large Ice Age mammals such as mammoths and camels.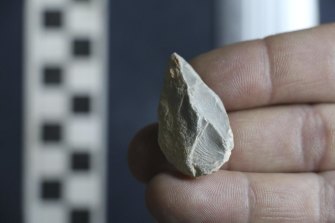 Our species first appeared about 300,000 years ago in Africa, later spreading worldwide. The new findings contradict the conventional view that the first people arrived in the Americas around 13,000 years ago, crossing the land bridge, and were associated with the "Clovis culture", known for distinctive stone tools.
The findings suggest low numbers of people entered the continent earlier than previously understood – some perhaps by boat along a Pacific coastal route rather than crossing the land bridge – and some died out without leaving descendants.
Archaeological scientist Lorena Becerra-Valdivia of the University of Oxford in England and the University of New South Wales in Australia said the continent's populations then expanded significantly beginning around 14,700 years ago.
"The peopling of America was a complicated, complex and diverse process," Ardelean said.
"These are paradigm-shifting results that shape our understanding of the initial dispersal of modern humans into the Americas," Becerra-Valdivia added.
The discovery was backed up by a fresh statistical analysis of data from other sites.
But it has sparked controversy, with some experts arguing that the alleged stone tools may not be real tools or may look older than they are.
Loading
"There continues to be no convincing genetic evidence of a pre-15,000-years-ago human presence in the Americas," said geneticist David Reich at Harvard Medical School in Boston, Massachusetts.
Ardelean says there is an explanation why genetic studies suggest that humans spread across the Americas only relatively recently: Early groups such as the one he thinks was present at Chiquihuite Cave did not survive to contribute to modern gene pools.
"I definitely advocate for the idea of lost groups," he said.