"These deficits clearly will have an impact on Queensland debt."
Mr Dick's predecessor Jackie Trad just a few month ago in April had given a budget update signalling Queensland's debt was forecast to balloon to $91.8 billion over the forward estimates.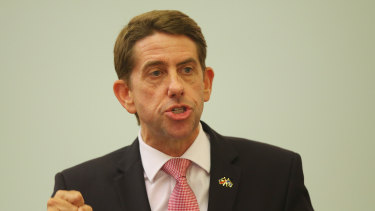 Mr Dick said that while the revised figure of $100.7 billion was obviously more than that, the government needed to spend to help prop up the state's economy.
"There is no alternative. The only alternative is austerity. Cutting, sacking and selling," Mr Dick said.
"I do not like borrowing money, I wish we were not in this position, but COVID has made it that way."
Loading
LNP treasury spokesman Tim Mander criticised the blowout in the debt figure, saying it showed there needed to be a full budget handed down before the state election in October.
"Anything less is keeping Queenslanders in the dark about the state's finances and how their taxes are being spent," Mr Mander said.
"No budget means no economic plan to lead Queensland out of recession."
Mr Dick said much of the debt was held on the books of government-owned corporations such as the state-owned power generators, and therefore he measured the state's debt at $59.4 billion.
"I'm using gross government debt because that is the measure favoured by the Commonwealth and by the governor of the Reserve Bank of Australia," he said.
"That's the challenge we have. New South Wales broke through the $100 billion barrier, they sold most of the government corporations and no one commented on that."
Queensland's GST allocation over the previous and present financial year has also been revised down by $2.5 billion.
Combined with the $1 billion fall in revenue from state taxes and royalties in the first half of 2020, the GST cut means Queensland has $6.5 billion less in revenue than planned over 2019-20 and 2020-21.
Loading
Thursday's announcement comes after Mr Dick earlier this month announced a plan to make $3 billion in savings by slowing the growth of the public service and cutting spending on costly consultants.
Mr Dick also announced on Thursday that a number of government assets would form the basis of a new Future Fund to help generate revenue for the state.
The assets announced were the Land Title Registry valued at at least $4 billion, the Cross River Rail precincts at Boggo Road, Woolloongabba, Albert and Roma streets valued at $160 million, and $1 billion in surplus from the state's defined superannuation fund.
Stuart Layt covers health, science and technology for the Brisbane Times. He was formerly the Queensland political reporter for AAP.