A spokesman for RSL NSW said at the time the organisation had no intention to develop the site, but was "in an exclusive due diligence period with a potential purchaser".
On Wednesday, a spokesperson said the organisation was consulting with the council and Drummoyne MP John Sidoti about the best use of the site.
"RSL NSW as a charity will then determine how to divest the site for the best outcome for both the community and RSL NSW members," the spokesperson said.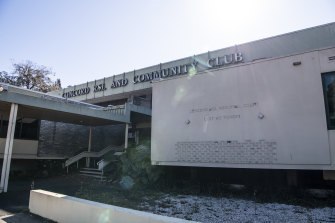 Sales data shows the property is still under the ownership of the RSL.
An application from development consulting firm Urbis for a site compatibility certificate to allow for seniors housing, comprising an eight-level apartment block and 110 units, has been withdrawn.
Loading
The Department of Planning, Industry and Environment wrote to the relevant planning panel in March saying the application had been returned as incomplete.
Cr Tsirekas said the use of the land for open space would align with the state government's recently publicised Greener Places framework "by integrating and connecting a network of high quality open spaces that would be multi-functional and provide social, environmental and economic benefits".
The planning guidelines emphasise the creation of a linked network of accessible, recreational spaces, urban tree canopy, and nurturing native habitats and ecological health within various urban and regional environments.
The framework is intended to inform planning controls at every level of urban development.
The council resolved on Tuesday to write to Mr Stokes and Mr Sidoti to help secure the site as public open space.
Mr Stokes said public open spaces play a vital role in society.
"It's great to see that Canada Bay Council is thinking proactively about increasing and improving the quality of their public open spaces," he said.
Loading
"We are always willing to work with all levels of government to improve our public open spaces."
Mr Stokes has previously said the sheer volume of people exercising outdoors during the pandemic exposed the limitations of historic urban design.
The site, between the Concord Golf Club and waterside Ron Routley Oval, has been identified by the Greater Sydney Commission as an important part of the city's 'green grid' that connects open spaces and recreation trails throughout the area.
The Herald has sought comment from Mr Sidoti's office.
Get our Morning & Evening Edition newsletters
Angus Thompson is an Urban Affairs reporter for The Sydney Morning Herald.