The Tigers were well beaten in the midfield, where a red hot Dustin Martin was the side's only winner, but were able to lock the ball in their front half for long periods, winning the inside-50 count 46-32.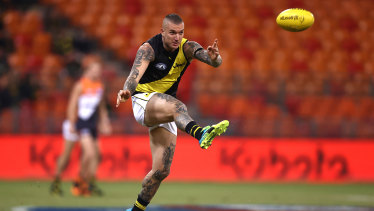 It prompted Hardwick to declare the Tigers' trademarks had returned, even if their form is still well below their best.
"What we can say is our system held up. Time in forward half, a heap more inside 50s, forward half time, the game itself looked like a Richmond game," Hardwick said.
"We just didn't execute to the level we normally would. A lot of that can be put down to inexperience but the vast majority can be put down to execution. We've got to get better."
Though key forwards Jack Riewoldt and Tom Lynch again struggled, booting just one goal between them, Hardwick wants to see more from his younger players.
Derek Eggmolesse-Smith, Jake Aarts, Mabior Chol and Patrick Naish were among the non-premiership Tigers who had a quiet game. They will come under pressure for their spots once the club's established stars are available.
"The fact of the matter is we still want the guys we brought into the side to grow into the roles and we think they will," Hardwick said.
"They'll learn a lot from it. The guys out of the side will be back at some stage but they won't be back in a hurry. From our point of view it will be about what we can do and get better at.
"We'll improve, there's no doubt about that. We're not playing our best footy. We certainly can play a lot better but we've got our head above the [win-loss] ledger which is a positive.
Loading
"We've been in this situation before a number of times and we'll continue to work hard to get our players up to speed. Once our talent comes back we'll be all the better for it. We just have to hang tough, get some wins on the board and continue to move forward."
In the next four games, the Tigers, who won 12 on trot after the bye last year, face sides who started the round in the eight, including bouts against Brisbane and ladder leader Port Adelaide.
"I don't want to say "pick and choose when you play your good footy", but there's no doubt the side that is the hottest generally rolls in and wins," Hardwick said.
"We're really confident in our strength and conditioning staff, they do a really good job with that, making sure our players are ready to play at the right time.
"We're confident if we've got our talent available, if we've got our system, our game plan, executing it well we're going to be hard to beat."
Andrew Wu writes on cricket and AFL for The Sydney Morning Herald