Infectious diseases physician Professor Peter Collignon from the Australian National University said the mortality rate among aged care residents was about one in five, meaning at least 50 elderly Victorians can be expected to die in the next two weeks.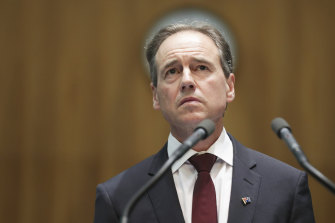 While Victoria had 41 people in intensive care on Saturday, Chief Health Officer Brett Sutton said many elderly patients would go directly to palliative care before dying.
"I'm concerned about the vulnerability of people in aged care, absolutely," Professor Sutton said on Saturday.
"The average age [in aged care] is close to 90. So the severity of illness in that population is very significant. Now some of those individuals are already being palliated, already have very significant illness, and coronavirus is a very significant infection to get.
"But the key intervention in aged care is not having that virus introduced in the first place."
Victoria's five deaths due to coronavirus on Saturday followed seven deaths on Friday, the majority of which were aged care residents. The Victorian Health Department said 22 of the state's total 61 coronavirus deaths were associated with aged care.
Mr Hunt said the new Victorian Aged Care Response Centre would be housed at Victoria's State Control Centre and run by Emergency Management Victoria, Emergency Management Australia and VicHealth. It will be headed up by Joe Buffone, the former chief officer of the Country Fire Authority.
"Whenever community transmission is higher, there is no immunity for our magnificent and courageous aged care workers," Mr Hunt said. "Focusing on supporting this is an absolute priority."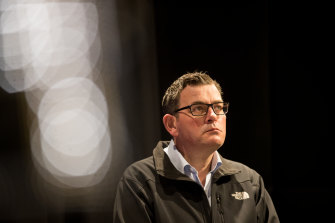 Professor Sutton said awareness among workers was paramount in preventing aged care outbreaks and Mr Andrews outlined on Saturday that the "transient, flexible and often insecure" workforce would be banned from working at more than one facility to reduce the risk of infecting multiple sites.
The Premier said the federal government would offer financial support in addition to Victoria's payments of up to $1800 for workers who must self-isolate.
Loading
Of Victoria's largest aged care outbreaks, St Basil's aged care in Fawkner grew by one to 74 on Saturday, Estia aged care in Ardeer increased by three to 71, and Menarock aged care in Essendon hit 60.
Opposition Leader Michael O'Brien criticised the Andrews government for acting sluggishly on aged care.
"You've just got to ask the question, why has it taken a month to get this done?" Mr O'Brien said.
"We've always known our aged care residents are among the most vulnerable Victorians when it comes to COVID-19 … So why has it taken so long to mandate personal protective equipment to be used by aged care residents and staff?"
Michael is a state political reporter for The Age.