Annesley said the review has also looked at bringing the Bunker back to local venues or in a mobile van that would drive from venue to venue. The Bunker is currently in a centralised facility located at Australian Technology Park in Sydney.
Loading
"There is a whole range of different ways of utilising that technology," he said. "That's the work that is underway at the moment to determine the best way forward and the most efficient use of game resources."
The game is also looking at forward-pass technology. About a week ago, Annesley said the NRL was briefed on new skeletal technology that can track whether the hands of a passer is releasing the ball back or forwards.
"I can't tell you it is close, but we are talking to technology providers constantly," he said. "If we are sold on the technology in terms of its effectiveness, it would come down to what is the cost of future research and development to amend it for our own purposes."
The effectiveness of the Bunker was criticised this week after Dragons fullback Matt Dufty seemingly denied Cronulla's second try, grounding a Chad Townsend grubber ahead of Jack Williams.
Dufty asked referee Grant Atkins if he could use the captain's challenge for the Bunker to review the try given, but was told it could not be used in that scenario. The error proved crucial in Cronulla's 28-24 win.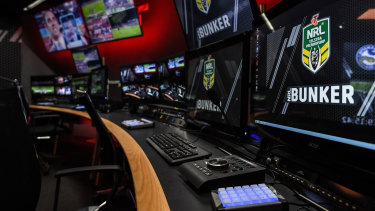 Dragons coach Paul McGregor labelled it a "stuff-up".
"Pretty clear, right? So how do they keep getting it wrong and who is accountable for it?" McGregor said.
Loading
As a result of the error, Bunker officials Steve Clark and Ben Galea were dropped from duties. Annesley said they would be unlikely to return for round 13.
"Ben has done hundreds of games for us … and has been one of our best performers in that role, so you don't on the basis of one decision just wipe these people forever," he said on Monday. "They'll be back and hopefully they'll be better from the experience.
"I can't promise anyone that there won't be more errors, it's just not within anyone's capability to promise that errors won't be made, it's human nature."
Sport newsletter
Sports news, results and expert commentary delivered straight to your inbox each day. Sign up here.
Sarah is a journalist for The Sydney Morning Herald.