On Wednesday, Hong Kong University fired law professor Benny Tai over his role leading civil disobedience during the 2014 pro-democracy Umbrella Protests, the precursor movement to months of unrest that rocked Hong Kong in 2019.
Tai, who was a key organiser of pro-democracy primaries held in July, vowed to appeal and said the move was the "end of academic freedom". Australian educational institutions including the University of Wollongong, RMIT and the Australian International School Hong Kong have campuses in the city.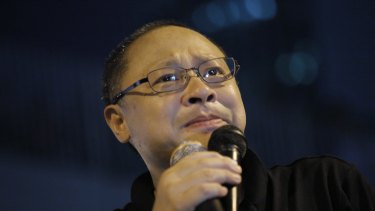 Beijing's Hong Kong Liaison Office, which insists the vast majority of Hongkongers are in favour of the new laws, said Tai's sacking was "just an act of punishing evil, promoting good and conforming to the people's will".
The turmoil comes less than six weeks out from the scheduled Legislative Council elections which could give pro-democracy lawmakers the power to block legislation and the Chinese territory's local budget.
Such a move is likely to increase tensions with Beijing and trigger further crackdowns. The Legislative Council functions like a state parliament and does not have control over national security, which is administered by the Beijing under the "one country, two systems" model.
US Secretary of State Mike Pompeo and Australian Foreign Minister Marise Payne said in a joint statement on Wednesday that the election should go ahead.
"[They] reiterated their support for the people of Hong Kong to be able to elect Legislative Council representatives via a genuinely free and fair election, which is credible and peaceful, on September 6," the statement said.
Former Hong Kong Legislative Council president Jasper Tsang said on Saturday that the elections could be delayed for at least a year after a sudden surge in the number of coronavirus cases recorded in the city.
Loading
More than 1000 new cases were recorded in the past fortnight, triggering a ban on dining at restaurants, restrictions on gatherings of more than two people and a mandatory public mask policy.
"The next two to three weeks will be critical. We need to prevent the further spread of the disease in the community," said Hong Kong's chief secretary Matthew Cheung Kin-chung. "There is a high risk of a major outbreak in the community."
Australia's Department of Foreign Affairs updated its travel advice for Hong Kong on Tuesday. There are up to 100,000 Australians living in Hong Kong, Australia's second largest expatriate community.
"There's been an increase in community transmission of COVID-19 in Hong Kong," the department said. "Practise social distancing and wear a face mask in public spaces and on public transport."
Loading
The department warned in early July that Australians could break the new vaguely defined national security laws without intending to and should reconsider their need to remain in Hong Kong.
China suspended Hong Kong's extradition treaty with Australia, Canada and the United Kingdom on Tuesday night in retaliation for the same measure taken by all three countries against Hong Kong in July.
Beijing said it would also halt agreements on mutual assistance for criminal matters.The decision could hit the Australian Federal Police bureau in Hong Kong, a key outpost for investigating drug trafficking and fraud in the region.
The AFP was contacted for comment.
Get our Morning & Evening Edition newsletters
Eryk Bagshaw is the China correspondent for The Sydney Morning Herald and The Age. Due to travel restrictions, he is currently based in Canberra.