The Hannas, however, deny making false and misleading claims to secure Mason's money or that there was any offer or agreement that they would guarantee it.
In their response in the Supreme Court they allege the ex-footballer's partying with John Hanna precipitated the downfall of his company.
They claim a close friendship existed between Mason and John Hanna between 2014 and 2018 "in which they partied hard".
"This regular partying was aided and abetted by [Mason] and caused [John Hanna] in his capacity as the sole director of Fairchild to not properly manage the company and this resulted in the mismanagement of Fairchild," the Hannas allege in documents filed with the court.
The Hannas claim Fairchild went from being highly profitable, saying accounts for the financial year ending in June 2015 confirmed a $1.6 million profit, to highly unprofitable by the time of liquidation.
Their statement says one of the issues likely to arise in the case is "whether [Mason] caused Fairchild to not honour its obligations … as a result of his regular partying with [John Hanna], and as a result of such partying, causing [John Hanna] to mismanage his duties as director of Fairchild leading to the subsequent liquidation".
Mason claims the $500,000 represented his life savings from earnings from a career which included 15 seasons in the NRL, 13 Origin matches for NSW and 24 appearances for Australia.
In the court documents, it is said he was introduced to the Hannas in mid-2013 as he was looking to refinance a home loan on his house at Clovelly, which he eventually sold in July 2014.
Mason alleges the Hannas told him they were experts in wealth creation and that if he invested his money from the house sale with them he could drive around in luxury cars like they did.
According to the former front-rower there was a written agreement entered into at a meeting between Mason, his partner Clare Hallinan, his solicitor Jason Arraj and the Hannas at Double Bay cafe Indigo on November 4, 2014. It included Mason being able to retrieve the $500,000 at any stage and indemnified him against any losses in relation to his deposit even if the company went into liquidation, the footballer claims. The money was sent to Fairchild's account three days later.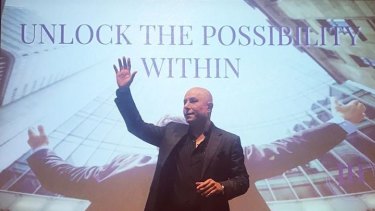 Mason's lawyer Lewis Seelenmeyer says that an unsigned version of the agreement "is available for inspection" but the Hannas claim through their legal representative Dominic Carbone that Arraj is unable to provide a signed or unsigned copy.
They insist the loan was unsecured and refute claims they induced Mason to invest with misleading information, saying the Canterbury premiership winner did his own due diligence and homework on them which was represented by him providing a testimonial for John Hanna's book Way of the Wealthy on his website.
They say the November 4 meeting was actually at a Melbourne Cup lunch, which wasn't formal and that an agreement about the terms of the loan wasn't reached there.
Fairchild did make payments to Mason "from time to time" – they totalled $234,059 between 2015 and 2019 – but the Hannas admit not repaying his $500,000 advance.
They argue, however, that Mason "failed to exercise reasonable care" before investing.
The case resumes in the Supreme Court on Friday.
Chris Barrett is Chief Sports Reporter of The Sydney Morning Herald.