BVN's design was selected as the unanimous winner by a panel of six jurors after several weeks of consideration. It will comprise about 246 residential apartments and a 100-room hotel above the club.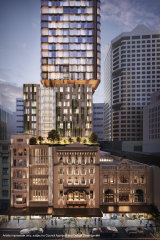 The Design Excellence competition was undertaken with the City of Sydney, which last year gave the club the green light for an "envelope approval" for the Stage 1 Concept development application.
Matthew Blair and Phillip Rossington, principal architects at BVN, said their scheme seeks to create an "elegant and sophisticated tower" that "enhances the Club's presence and identity in the city".
ICD Property's managing director Matthew Khoo, on behalf of the development group, said the project "will deliver a world-class tower to the heart of Sydney's CBD".
The process to redevelop the club and its airspace started in mid-2013 and after a series of false starts with backers, it is a step closer to fruition.
The chief executive of the Club, Marcelo Veloz, said the redevelopment will allow the club to significantly upgrade the existing offering and play a part in re-activating the economy.
Loading
It is expected that by the time the project is completed, there will be a renewed demand for hotels and apartments. It is one of the final pieces of redevelopment in the northeastern zone of the City.
Colliers International's Gus Moors, head of hotels, and Karen Wales, director of hotels, said while the sector is under pressure, improvements are expected to continue through 2021 with growth in the domestic segment initially and the slow return of international visitation through the second half of the year.