"Sarah (Gittoes) and Robert (Sebastian Grynkoski) have established a loyal following for their work, so they weren't after a large shingle out front announcing their arrival on this strip," adds Landini.
With the store being only 80 square metres in area, every centimetre had to count.
So even before one opens the front door, the 'floating' display case that straddles the entire length of the narrow space, had to make its mark.
The display case abuts the front window, allowing a peek of the jewellery on offer.
"Robert (Gittoes' business partner) and I come from an industrial design background.
As with our jewellery, we wanted the interior to be tactile, but also with a certain softness," says Gittoes, pointing out the rich walnut joinery that frames the consulting area at the rear of the store.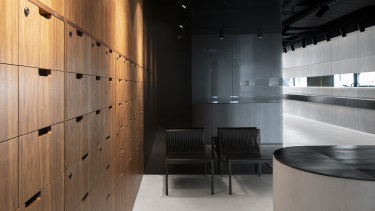 Rather than fill the space with superfluous detail, Landini created a few strong gestures.
To one side is the glass-topped display case, supported by a steel beam.
On the other side is black glass-fronted joinery with a transparent glass display case that allows everything from fine jewellery to art pieces and objects d'art, to be exhibited.
"We didn't want the interior to overwhelm the jewellery.
Loading
It was more important to engage with the craft of making.
Jewellery has a wonderful heritage of making," says Gittoes, who is Sarah & Sebastian's creative director.
Landini is used to working on large-scale retail projects, such as his current involvement with Selfridges in London, or with slithers of spaces Down Under.
For this store, he was conscious of the fit-out being minimal and well-crafted, together with subtle gallery-style lighting concealed within the black-painted ceiling.
"Retail design, irrespective of scale, should be slightly magical, almost slightly intriguing," says Landini, who still recalls the extremely small boutique in Kings Road, in Chelsea, London, operated by British designer Antony Price in the late 1970s.
"Antony used to design all of Brian Ferry's stage outfits, as well as those for other leading musicians. Unlike the flashy clothes, the actual store fit-out was reduced to the minimum," says Landini.
"You couldn't see into it from the street and when you went in, there was just a couple of catalogues on the counter showing his sketches, accompanied by fabric swatches," he adds.
As with Price's store that attracted a brave and loyal clientele, the Sarah & Sebastian store offers a sense of intrigue with, as Landini says, 'a dose of inspiration'.
Loading
"It's a small store so the idea isn't to have people fill it.
It's about serving those who appreciate what's on offer and want to spend time looking at the jewellery," says Landini, who was also keen to create a store that stood apart from its neighbours.
It is also slightly hard-edged (unusual for Mosman) and on the radar of those who don't necessarily see themselves following the pack.
"Like the jewellery, the store has a sense of confidence," he adds.
For Landini Associates to have received 22 retail awards from the American Retail Design Institute for a number of stores designed in the United States, China, Asia and Europe is also testimony to the adage that it's not always size that matters.
"Retail design is about creating an experience, irrespective of what's on offer," says Landini.