"We think it will be highly sought after due to its high-profile location near the Punt Road intersection. There are 25,000 cars passing it every day – in normal times," Mr Maule said.
It's also around the corner from Tim Gurner's new Collingwood project and a large swathe of other new office and residential projects.
Land in the city-fringe area is fetching up to $6000 a sq m which means the 444 sq m site could sell for more than $2.6 million.
GP buys shop
A doctor has snapped up a CBD shop in Liverpool Street around the corner from Pelligrinis and the new hotel proposed for the historic Job's Warehouse site.
GP Steven Liu, who runs twin general and cosmetic practices in Bundoora and Preston, is establishing a footprint in the city, paying $2.48 million for the vacant shop 2/16 Liverpool Street. The price equates to $9288 a sq m.
Knight Frank agent Jack De Lutis said the property had been on the market for a while and the best offer had come post COVID-19.
"The health care sector has shown explosive growth in 2020," he said.
Able to move
Disabled services group, Able Australia, has sold its Camberwell medical administration headquarters at 616 Riversdale Road.
A local developer has paid more than $4 million for the 970 sq m two storey office which is on a 1364 sq m site on the corner of Aird Street.
Able Australia, once known as The Victorian Deaf Blind and Rubella Children's Association, is relocating to bigger premises in Surrey Hills. Records show it bought the property in 2006 from the Multiple Sclerosis Society for $1,215,000.
Gorman Commercial agent Jonathon McCormack, who handled the transaction with Stephen Gorman, said seven bids were lodged for the property.
The buyer is understood to be planning a townhouse development on the site which sits half-way between Camberwell Junction and Riversdale railway station.
Healthy sale
Health and medical supplies distributor OPC Health has sold its Port Melbourne headquarters for $5.6 million in an off market deal.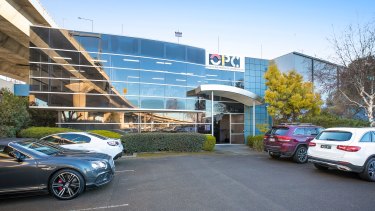 OPC Health has been in the 151-159 Turner Street building for nearly 25 years. It's on a 1915 sq m site under the Bolte Bridge off-ramp.
A campaign to sell the Fisherman's Bend property was scheduled for this weekend but Quinn Reynolds agents Linc Reynolds and Marcus Quinn sold it to another owner-occupier before it even got started.
OPC is merging with oapl and relocating to new premises in East Oakleigh. Both companies are part of the OPED Group.
Old McCann
An owner occupier has also snapped up the old McCann Auctions showroom in Richmond, paying $3.4 million.
Teska Carson agent George Takis received 12 offers for 426 Burnley Street in the North Richmond precinct from 226 enquiries. The price equated to $6126 a sq m.
The 595 sq m warehouse is on a 555 sq m parcel of land.
"The amount of enquiry was staggering even in these times. City-fringe warehouses are especially sought after," Mr Takis said.
The new owner is believed to be planning to use the building for a combined office-storage.
Nicole Lindsay is a property reporter at The Age.