Environment Minister Lily D'Ambrosio said setting interim targets in the current environment was difficult, given the significant impacts of coronavirus on how industry and the economy operate and "how we move around our city and how households use energy".
"We will continue monitoring these impacts over the coming months and announce our interim targets for 2025 and 2030 when there is greater certainty for this decision making," she said.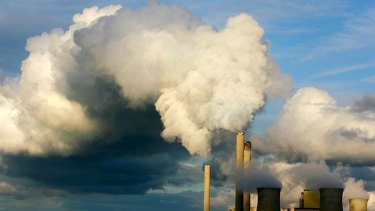 Ms D'Ambrosio said Victoria had the strongest climate change legislation in the country and remained on track to meet its target of net-zero emissions by 2050.
This is the second time the Victorian government has delayed setting targets, making it "doubly disappointing", said Environment Victoria chief executive officer Jono La Nauze.
"We agree the government's focus must be on protecting public health right now, but that does not diminish the urgency of the climate crisis," Mr La Nauze said.
"We kicked off 2020 wearing face masks to block out smoke from the worst bushfires on record. Experts say there is much worse in store if we don't take urgent action to drastically reduce global emissions."
In deciding a target, the government is required to consider the advice of an independent panel chaired by Labor heavyweight and former federal minister for climate change Greg Combet.
The Combet panel found Victoria should reduce its emissions by 32 to 39 per cent in the next five years, and 45 to 60 per cent over the next decade.
Friends of the Earth climate campaigner Leigh Ewbank also expressed disappointment but urged the Victorian government to "make the right decision, not a rushed decision on climate targets."
Environment Victoria is one of a number of organisations – including the Climate Council, the Australian Conservation Foundation and Friends of the Earth – to put a pandemic response proposal to the Andrews Government.
The COVID-19 response should deliver economic benefits while also meeting Victoria's goal to reduce emissions in line with keeping global warming to below 1.5°C, it said.
The proposals include energy efficiency upgrades for vulnerable households and introducing grants for manufacturers to upgrade infrastucture.
The state should also put solar panels on public housing and launch an employment program to undertake revegetation in bushfire-affected landscapes, the group said.
"Smart, targeted government investment now in areas such as renewable energy, energy efficiency and supporting manufacturers to move away from expensive, polluting gas will help Victoria to bounce back," said Amanda McKenzie, the chief executive of the Climate Council.
Recent Climate Council research suggested thousands of jobs could be created in large-scale renewable energy schemes to tackle steep job losses from the COVID-19 pandemic.
Loading
Miki Perkins is a senior journalist and Environment Reporter at The Age.
Most Viewed in Environment
Loading