Bolton, a dual premiership player and 300-gamer – renowned as one of the AFL's most courageous players during his career with Sydney – said a convention was almost needed to sort out the issue.
He said the McGrath decision was against what he believed to be the way the game should be played and officiated.
"That flies in the face of the crux of football, which is 'get in there to win the ball.' I know he went to the ground or whatever but he got straight to his feet and he's trying to burst out. I feel we're in a stage we've just got to unravel the mess that we've sort of put in place over the years," Bolton said, adding that he believed that umpires had been put in a difficult position.
"I feel for the umpires massively," he said.
"I get frustrated because I can't see anything wrong with just quickly going in and saying 'that was a fantastic approach from Andy McGrath, throw the ball-up.' The main thing for me is just reward the person going for the footy. That's got to be the whole crux of the whole game."
Bolton said the AFL's determination to keep the game moving had contributed to the confusion. He suggested that eradicating the ruck nomination rule brought in at the end of 2016 would help with the issue.
"The nomination of the ruck is just ridiculous. I feel like we just need to unravel it, simplify.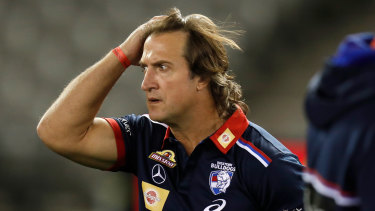 "I think it's got to go hand-in-hand with getting rid of the nomination rule and I'd almost bring back the third-man-up. There's nothing wrong with clearing that space, making it a dynamic play and we move forward.
"It probably does need some sort of convention on it to say 'what do we want to look [like]?'"
Former AFL football operations chief Adrian Anderson added on Sunday that while he had no problem with the league tightening the rule surrounding holding the ball, "you've got to protect the ball player first."
Loading
Western Bulldogs coach Beveridge was an outspoken critic of the interpretation change at the time, criticising the league for flinching in the face of Clarkson's comments.
Beveridge conceded on Sunday that the Dogs were in the dark about the rule heading into Monday night's meeting with Port Adelaide at Adelaide Oval.
"We can't address it because we don't know what the interpretation is going to be and we're not sure what the rule is," Beveridge said.
"We'll just play and our players will just do their best to make sure we clear the ball when we get tackled and maybe take the opportunity to really clamp down when the opposition get the footy."
Richmond great Matthew Richardson tweeted on Sunday that Beveridge was "100% correct."
Both the AFL and the AFL umpires' association declined to comment on Sunday.
Daniel is an Age sports reporter